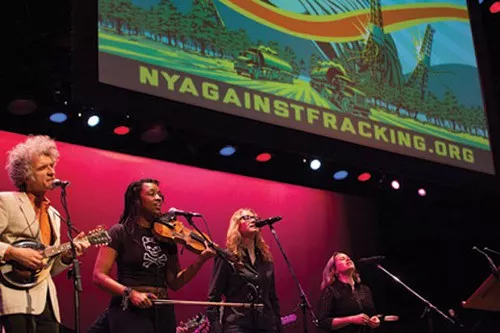 The anti-fracking documentary by award-winning journalist, author, filmmaker, and Stone Ridge resident Jon Bowermaster screens at SUNY New Paltz's Lecture Center (room 100) at 8pm on Wednesday, December 5. The film documents the anti-fracking protest last May at the state capitol. "New Yorkers Against Fracking" included speeches by Mark Ruffalo, Pete Seeger, and Melissa Leo, and the accompanying concert featured music by Natalie Merchant, Joan Osborne, Citizen Cope, Medeski, Martin & Wood, and John Sebastian, among others.
Screenings of the documentary have been held throughout New York, including a sold out show at the Rosendale Theatre and a show at Cornell University with an audience of over 300 people.
The SUNY New Paltz screening will include the 70-minute documentary followed by a Q&A session with Bowermaster and Frack Action leaders John Armstrong and Renee Vogelsang. They will also provide political updates on the issue.
Chronogram's film critic, Jay Blotcher, reviewed the documentary before its premiere at the Woodstock Film Festival in October. Click here to read the coverage.