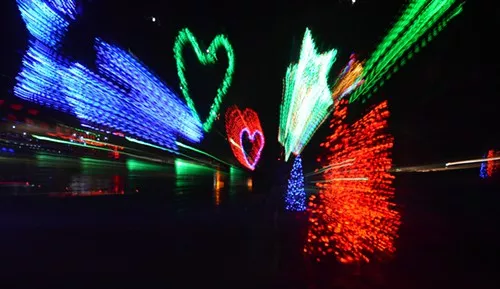 Like many families, the Gay's in Lagrangeville have their traditions. But unlike most families, their tradition includes 346,283 lights, 1,250 strobes, and seven miles of extension cords.
In 1995, Tim and Grace Gay had their first child, Emily, and dedicated a display of 600 Christmas lights to her. Now, the month-long display includes daily light shows synchronized to 154 songs, including Christmas favorites as well as music by popular artists, like U2, Rihanna, and Coldplay.
The project, known as ERDAJT (an acronym for the first and middle name of all their children) is certainly a family affair. Uncle Brian helps with taking the lights down, Uncle Don was crucial in the early years of the project, and the children, Emily, Daniel, and John, have become vital to the production. In 2010, the Gay's kept track of the time it took to construct and break down the light display, docking 1,352 hours of work between seven people.
Five new features have been added to this year's display: A 32 channel leaping rainbow, an 11 channel moon above it, a stone bridge in their driveway electrified with 20,000 lights in five different colors, a pink heart in memory of Ellie, Tim's sister who died of breast cancer, and blue lights in the display around the pond.
The event is free, but donations are accepted. All proceeds go to the Union Vale Fire Department and Children's Home of Poughkeepsie. To listen, tune your car radio to 95.3 FM. For more information, including a full show schedule, visit the ERDAJT website.