"Make juice, not war," is a favorite saying of Kris Carr, the self-described wellness warrior, cancer thriver, and author based in Willow, NY. After writing about Carr for Chronogram in "Power to the Plant Eaters" (Nov. 2012), I dusted off a friend's hand-me-down juicer and started making the delicious, Technicolor brews myself. I'm hooked. Though green in color, these juices are nutritionally golden in every way, and a surefire way to get your share of essential vitamins, minerals, enzymes, phytonutrients, and antioxidants. All this raw-food goodness helps to increase the micro-electric potential of your cells; in other words, it keeps your body running like a lean, green, finely-tuned machine.
If you're lucky to have a juicer handy, try the following recipe from Carr's new book, Crazy Sexy Kitchen: 150 Plant-Empowered Recipes to Ignite a Mouthwatering Revolution. And learn more about Carr's crazy sexy wellness strategies at Kriscarr.com.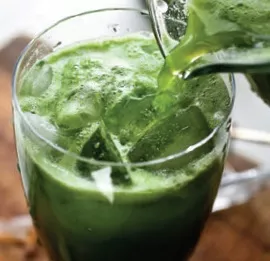 Morning Glorious
(serves 2)
1 large cucumber
A fistful kale
A fistful romaine
2 or 3 stalks celery
1 big broccoli stem
1 green apple, quartered
1/2 peeled lemon, quartered
1. Wash and prep all ingredients.
2. Juice all ingredients.
Enjoy!