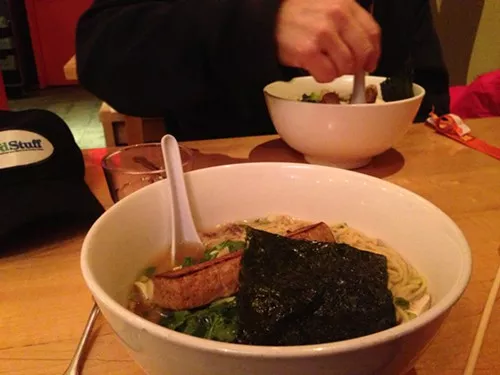 Noodle Soups at Yum Yum Noodle Bar
Yum Yum Noodle Bar is open year-round, but my favorite time to go to the Woodstock location is when it snows. I think snow is something to celebrate here in the Hudson Valley since a good deal of tourism depends on a white winter. (Sorry snow-haters!) Last Friday night we took our daughter out for soup at Yum Yum Noodle Bar in Woodstock since it is very kid-friendly. If your child likes to try different foods, order the Kids Yum Yum Bento Box. The restaurant serves Korean and Thai influenced cuisine, and prides itself on being eco-friendly. (They even use a paperless ordering system).
They have nightly specials, but I love their soups. We ordered vegetable dumplings to start which were delicious. I ordered the miso broth with tofu and ramen noodles. My husband had the special Beef Pho Soup with rice noodles. My daughter had the kids chicken noodle with ramen noodles. For dessert she had a red velvet Moxie Cupcake, which was a perfect ending to a perfect soup meal. I have yet to try one of their specialty cocktails. Will put that on the list of 2013 resolutions. Yum Yum Noodle Bar opened up in uptown Kingston in 2012, but I have yet to eat there. Yum Yum Noodle Bar, 4 Rock City Road, Woodstock, NY. (845) 679-7992
Go to HudsonValleyGoodStuff.com to find more Hudson Valley Good Stuff.