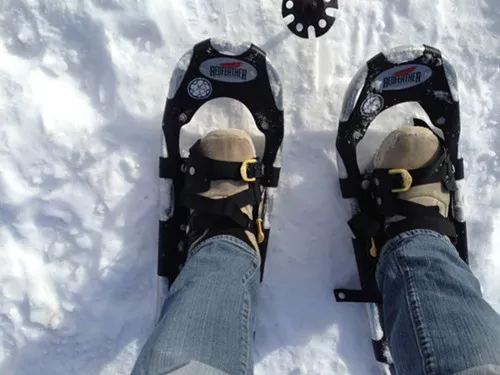 Snowshoes provided by Overlook Mountain Bikes
Kenneth L. Wilson State Park is a great place to snowshoe
I rented snow shoes in Woodstock from Overlook Mountain Bikes over the weekend. If you have wanted to try snowshoeing, but don't want to invest in a pair of snowshoes, why not rent them first? Overlook Mountain Bikes rents snowshoes for $15/day. Billy Denter, the owner, showed me how to put them on and recommended Wilson State Park as the best place to snowshoe in the Woodstock area.
I drove to Wilson State Park to test out the snowshoes. It is breathtaking and makes for a great winter background, though we could use a bit more snow. I didn't go on any of the long trails, but I did snowshoe for about 30 minutes and it felt great. I felt like I could snowshoe for hours. It's a lot more fun than the treadmill at the gym. Depending on your weight, you can burn from 185 to 380 calories in 30 minutes of snowshoeing. I might have to invest in a pair of snowshoes if they go on sale at the end of the season. Overlook Mountain Bikes sells Dion Snowshoes and Red Feather Snowshoes. Overlook Mountain Bikes also offers hand tuning and waxing for snowboards and skis during the winter months.
Check out Vanessa Ahern's blog HudsonValleyGoodStuff.com for more things to do in the Hudson Valley.