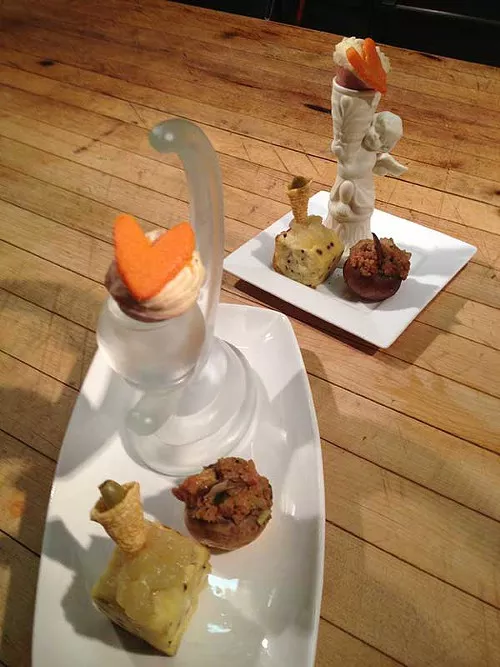 Valentine's Day temptations at Depuy Canal House: Cupid with Genoa salami reel filled with white bean hummus and a butternut squash heart; Potato fritatta with apple and green olive stuffed bugle chip; Portobello mushroom stuffed with Tuscan Bread and tomato salad with basil pesto.
It's that time of year again—when local chefs express their romantic sides. The following restaurants offer Valentine's Dinner menus that are sure to seduce your palate and your partner!
Chef Ric Orlando has created a sexy menu for New World Home Cooking. The Notorious Safe Sex Platter for Two for $24 includes Venezuelan Spiced Chocolate Drops, Oysters on the Half Shell, and Perfect Olives, among other aphrodisiac delights. The platter is served with a blind fold. A "Raw, Barely Cooked, and Chilled Seafood Menu" is also available from the a la carte menu. Seafood lovers can also savor the "All Seafood Safe Sex Platter" for $65.
Panzur in Tivoli is offering a special Valentine's Day Menu featuring "the same ingredients prepared in contrasting ways symbolizing how we can be completely different and exactly the same" for $75 per person, minimum of two people per party.
Cucina in Woodstock is having a Three-Course Valentine's Day Dinner Prix Fixe for $49, which includes a glass of prosseco.
You can woo your honey in a 200-year-old tavern at the Deputy Canal House in High Falls where Chef John Novi has created an extravagant a la carte menu for Valentine's Day 2013, which starts off with a Valentine's Lovers Beautiful Chocolate Kiss Cocktail.
Peekamoose Restaurant & Tap Room in Big Indian is offering a "Have a Heart" Valentine's Day Dinner on February 14th. A portion of the night's proceeds will go directly to the Heart of the Catskills Humane Society.
Find more ideas for Valentine's Day in the Hudson Valley at Vanessa Ahern's blog Hudson Valley Good Stuff: Where to eat, play, and recharge your spirit in the Hudson Valley