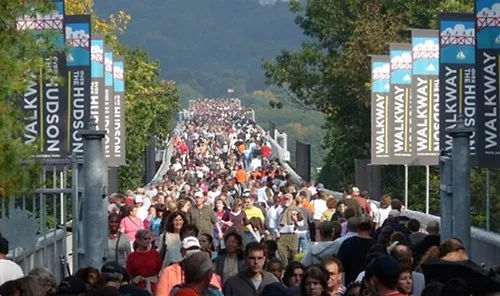 In anticipation of a busy 2013 season, Walkway Over the Hudson is looking for additional volunteer Ambassadors.
The nonprofit group currently has 80 volunteer Ambassadors who are specifically trained to enhance visitor experience by serving as tour guides, greeters, and information providers during peak times of State Park usage. The predicted fall 2013 completion of Walkway's waterfront elevator and two new volunteer pavilions necessitate volunteers that can help greet visitors and safely manage large crowds.
Two general volunteer training workshops will be offered on Wednesday, February 6 from 6-8pm and Monday, February 11 from 4-6pm at the Walkway office in downtown Poughkeepsie. For more information or to register for one of the workshops, contact Program Cooridnator Susanne O'Neil at (845) 454-9649 or soneil@walkway.org. Interested parties can also register online at www.walkway.org.