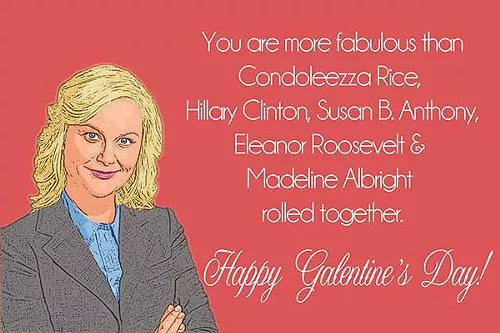 My friend Monica is hosting an event called Galentine's Day for the second year in a row. I attended last year, when she hosted at her home, and will attend again this year at the gathering she's organized at the Village Tea Room in New Paltz.
Ladies of the Hudson Valley: it's worth knowing about Galentine's Day.
Valentine's day epitomizes the double-edged sword of holidays—they can be a tremendous joy, or make you feel terribly alone. When it comes to a holiday that's characterized by pink hearts, red roses, and candlelit champagne dinners, the potential for the latter is, unfortunately, high. But we forget that love isn't only for those who are in a romantic relationship. Love is (to reference the delightfully sappy rom-com Love Actually) all around. And especially, it's important to celebrate the love of and for your friends.
Galentine's Day is the brainchild of the kooky, big-hearted Leslie Knope of the television show "Parks and Recreation." Knope (played by Amy Poehler) is the type of boss who makes a sporting event out of buying thoughtful Christmas presents for her staff. Fittingly, she throws her annual "Galentine's Day" party for her female friends the day before Valentine's Day. "It's like Lilith Fair minus the angst, plus frittatas," Knope says in the episode debut of Galentine's Day.
Monica (who's creativity is evident in her cupcake-wizardry) has fun with the handmade element of the event, incorporating tasty treats (whether potluck style at home or out at an appropriately sweet spot like the Tearoom) and even goody bags. Gals: you don't need any reason to celebrate Valentine's day besides a few good friends. Gents: don't all jump up at once to start planning your very own "Valen-guy's Day."