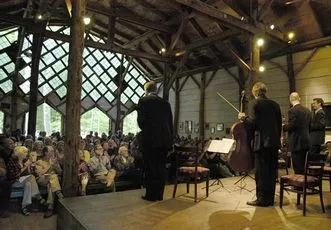 Woodstock's Maverick Concerts site is without a doubt one of the Hudson Valley's most prized cultural and architectural treasures. In operation since 1916, the magical wooden concert hall is home to America's oldest continuously operating summer chamber music series and is on the National Register of Historic Places. Among the many significant performances that have taken place at Maverick over the last 97 years is the 1952 world premiere of John Cage's "'4'33"." Recently, Maverick's board of directors announced for some significant new construction set to take place on the site.
The plans include the building of a new, larger green room for visiting artists and a four-unit sanitary restroom facility, which will feature state-of-the-art, environmentally friendly composting toilets and hot and cold water for washing (concrete pilings have already been poured for the latter structure). "We're delighted to be able to modernize the amenities but retain the unique charm of our rustic site," says Maverick Chairman David F. Segal.
More information about Maverick Concerts, as well as its 2013 season schedule, can be found at www.maverickconcerts.org.