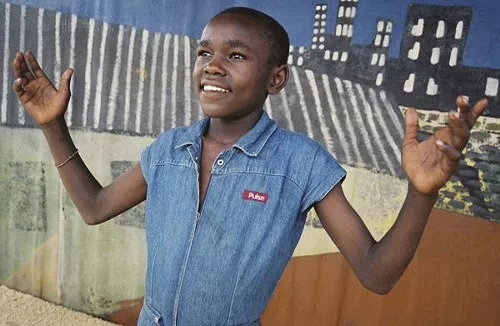 When Woodstock-based documentary filmmaker Tracy Christian traveled to Kenya with her husband in 2000, she came across an extraordinary orphanage. Here the street children of Nairobi were offered not only food and shelter but love and theater. Given training in the performing arts by orphanage founder Anne Wanjugu, some of life's most downtrodden little people began to lift themselves up. Under stage lights, they shined with purpose. Even joy.
Street Journeys, the story of Wanjugu and the children of Shangilia orphanage, is Christian's love child, over 10 years in the making. This Saturday afternoon, the Woodstock Film Festival is sponsoring the documentary's Hudson Valley debut at Upstate Films Woodstock. Meanwhile, the film has already graced some prestigious festivals; it nabbed the Best Documentary award at the SoHo International Film Festival, screened at Lincoln Center as part of its "Art of the Real" series, and garnered a rave review from Rolling Stone critic Peter Travers.
While making the film, Christian learned something from the children themselves: the art of perseverance. "Even when funds ran low or were nonexistent, I never gave up," says Christian. "I won't give up until I have shared their story with the largest audience possible. Anne taught me that compassion requires action, and that with faith and hope anything is possible. The children are the real heroes of this story, and they continue to inspire me with their courage."
Two other local talents had a hand in the film: Composer Daniel Hulsizer of Woodstock, and editor Anne Barliant of Saugerties and New York City.
Street Journeys will screen on Saturday, March 2, at 2:30 pm at Upstate Films Woodstock. Advance tickets through the Woodstock Film Festival website are $10. The WFF has also designated higher-priced tickets that will split the proceeds with the orphanage's U.S. foundation, the Shangilia Foundation USA.