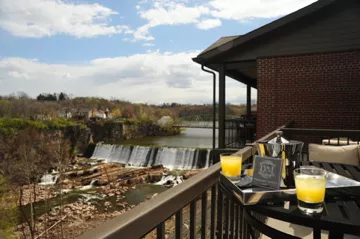 Kelly Merchant
The View at Diamond Mills Hotel & Tavern
It is hard to believe Easter is almost here. Here are seven restaurants that will be serving Easter Brunch in the Hudson Valley. With any luck by the time you get to enjoy your Easter brunch, you will be able to see the grass again.
1) Gunk Haus in Highland. If you love German food, you will love the Easter menu specials at Gunk Haus: wiener schnitzel, lamb sausage, fresh roast turkey, weisswurst, and loaded waffles. Leave your diet behind!
2) Peekamoose Restaurant in Big Indian will be open from 3pm to 8pm on Easter Sunday, and lamb will be on the menu.
3) Duo Bistro in uptown Kingston. My love for Duo Bistro is no secret. They will be open for Easter Brunch from 10am through 3:30pm, and open for dinner from 5:30pm to 10pm. Follow them on Facebook for menu/event updates.
4) Phoenicia Diner on Route 28 in Phoenicia will be open for Easter Brunch, but they don't have their specials up yet. I love their big breakfast skillets, omelets, and soup! The portions are very generous, and the atmosphere is casual mountain diner chic!
5) Diamond Mills Hotel & Tavern is Saugerties will be serving a "bountiful Easter Brunch" on Sunday, March 31. $39 for adults, $18 for children 12 and under. Children under four are free. (They have kids buffet too, FYI.) If you are looking for a fancy buffet with carving stations, made to order omelet stations, and a pasta station, this is the place!
6) Garden Cafe in Woodstock is a perfect place for vegans to go on Easter Sunday. They will be open until 2pm for a yummy vegan lunch.
7) The Village Tea Room & Bake Shop in New Paltz will be fixing southern-style Easter ham (from Northwind Farm in Tivoli) with collard greens, and biscuits and gravy. They will be open at 8am Easter Sunday. You can also order from their regular menu that day. (I wrote a review for LoHud's food blog about The Village Tea Room in March 2011.)
Where is your favorite place to have Easter Brunch in the Hudson Valley?
Follow Vanessa's Hudson Valley adventures at HudsonValleyGoodStuff.com, a blog about where to eat, play, and recharge your spirit in the Hudson Valley.