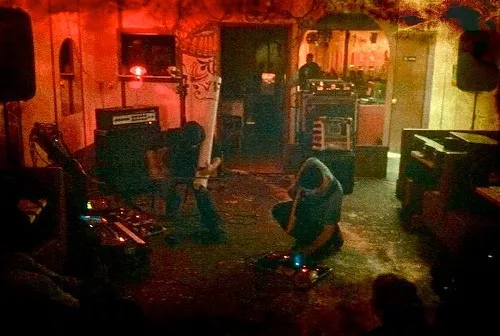 Pizza came in shifts at My Place Pizza in Poughkeepsie last Monday. The owner, Patrick Fitzgerald, was only making fresh pies in between sets. For the rest of the night, he was nestled into one of his classic red pizza parlor booths along with the other 20 or so people who were gathered in the back of the dark narrow room.
This wasn't your typical night of music in the Hudson Valley. There were no swanky cocktails (it's BYOB if you're so inclined) or even a stage to separate the musicians from the crowd. The show wasn't publicized much beyond a Facebook event page. But when you walked into the back of the dark parlor, the excitement for the music to come was palpable.
Fitzgerald, tall, dark, and lean in a Frank Zappa sort of way, bought the 35-year-old building last summer, and he's been hosting shows since October. A musician himself, Fitzgerald was looking for a way to combine his work with his passion, and, since most other pizza places close early in the business district of Poughkeepsie, he saw the potential of keeping his place open late and filling it with musicians looking for a space to play.
"I like to let things develop as they may," says Fitzgerald. "We say yes to whoever says they can put on a show here." This makes for diverse and unpredictable line-ups, often within a given night, as was the case this past Monday. My partner Tom and I arrived a little after the 7:15 starting time, so we missed the opening band, Candle Hoax, a guy by the name of Jake Becvar making really pretty, shoegazy instrumental melodies. (I know it's pretty because I listened to the songs on his bandcamp page.) The first band that went on after we got there was Thickly Painted Walls, who played a 20-minute long aggressive noise set that opened with a scatting trumpet and ended on some gentle notes, but was harsh and largely inaccessible in between. A super high-energy shred punk band touring from Florida came next. Permanent Makeup, a trio made up of two guitarists and a fiery red-haired female drummer, shared that they were worried they wouldn't sweat after leaving Florida, but worked up a good one during this performance. The real show stealer, though, was the closing act, Harbour, a lo-fi drone duo. Damian Cleary's electric-guitar mastery was matched by Jonas Bers's string work on his stand-up bass, which he crafted out of a white PVC pipe. When Bers wasn't playing the pipe, he worked a series of pedals and mixers. The resulting reverb was oceanic—achieving waves in sound that mimicked the motions of the tides. Some moments were rip-tide thrilling, others like the lullaby of idling waters. "I was entranced literally by that," says Fitzgerald of the Harbour performance. "That was totally awesome."
And he didn't have to look far to find it. Bers is a Rosendale resident, as was Cleary until his recent move to Connecticut. "I believe the local music we have is just as good as anything you hear anywhere," says Fitzgerald, who has been living in the Hudson Valley for 20 years. "I like to celebrate what's real to me, and what's real to me is the people I see in real life—not people who do things way far away." This means even giving musicians who are still crafting their skills the opportunity to play. "Sometimes you have to go through learning and people at different stages, and that's beautiful as well," says Fitzgerald. "I embrace it all and get the benefits of the unexpected."
The Harbour show was free, which is SOP at My Place Pizza. Some bands charge a cover, in which case all of the money goes to the band, not to Fitzgerald. You can just give him a couple of dollars for a slice.
It's Not Night: It's Space plays April 13; Ghost Bat, Bunk Acid, Dia, and Six 7 (Fitzgerald's band) play April 19.