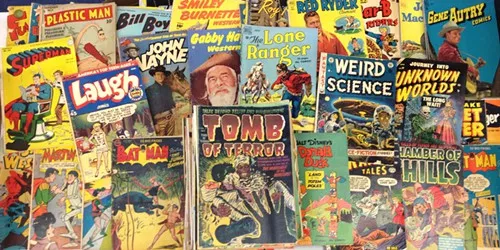 Photo Courtesy of Austin Books & Comics
May the fourth be with you on Free Comic Book Day.
Since 2002, independent comic book stores across the country have celebrated Free Comic Book Day on the first Saturday in May. Several Hudson Valley shops are participating in this year's event—which falls on the famed Star Wars Day, May 4. Participating stores include Poughkeepsie's Dragon's Den, New Paltz's October Country, Newburgh's Dark Tower Comics, Wappingers Fall's The Vast Abyss, Salt Point's Alterniverse, and Middletown's Main Street Comics.
This year's Free Comic Book Day titles include Judge Dredd Classics, Disney Fairies, TMNT New Animated Adventures, and a special-edition of The Walking Dead, among others.
Dragon's Den will be having special sales including buy any bagged or bagged-and-boarded comic for $2.99 or less and get any comic of the same price for free; fill a small box of $0.99 comics for $29.99; over 100 buy-one-get-one-free graphic novels on clearance; and marked down collectibles and toys. The first 30 people in the store will receive a coupon for one free graphic novel from the clearance box.
The shop also welcomes comic book writer and artist Franco Aureliani, who is best known for writing the DC Comics series Tiny Titans, which won him a 2011 Eisner Award for Best Publication for Kids. Aureliani will answer questions, sign autographs, and offer free sketches from 11am to 4pm.
Alterniverse will also have artists in house for signings including Brad Walker (DC Comics, Green Lantern New Guardians), Christian DiBari (Dynamite Entertainment, The Warriors), and Ryan Bowne (illustrator and horror artist). All three artists will have commissions and sketches for sale.
Free Comic Book Day is on Saturday, May 4 at independent stores throughout the country and Hudson Valley.