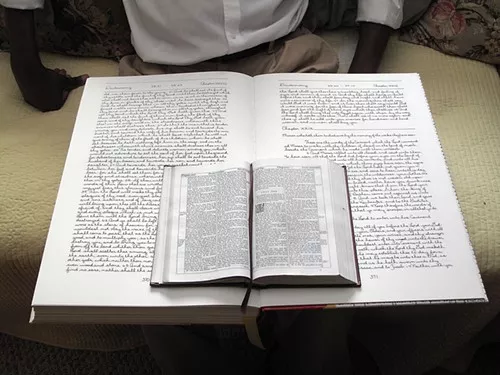 Laura Glazer
Phillip Patterson copies Corinthians.
Nearly six years ago, Phillip Patterson sat down and began copying the 1611 edition of the King James Bible in his clean, loopy script. Sometimes spending up to 14 hours curled up with his work—totaling thousands of pages—the Philmont man will soon trace the final words of Revelations.
On Saturday, May 11, at 6pm, Patterson holds "The Last Word" at St. Peter's Presbyterian Church in Spencertown. Following a brief discussion, music, and a question-and-answer session, he will publicly complete the project.
The idea for the project was born after a conversation with his late partner of 20 years. Patterson's partner—a Muslim who owned a collection of handwritten Korans—said he should transcribe the Bible. Though he attended Catholic school and grew up listening to bible stories, Patterson had never read the book in its entirety—which is partly why the project appealed to him so much.
Patterson began copying the text soon after that conversation. When deciding how to organize his handwritten pages, he split the 80 King James Books into eight volumes—of which seven are completed. Of course, the actual process of transcription proved to be more tedious than the planning. Working on sheets of oversized ivory, watercolor paper, Patterson uses a ruler to trace lines across the page in pencil. He glides smooth, black ink over the markings and when it's dry, he carefully erases the pencil tracings.
Since 2009, Patterson's artistic and intellectual journey has been cataloged by photographer Laura Glazer—a collaborative project now known as the "Serenity of Knowing." The pair keeps a blog where they post monthly updates—including writing and photographs—about the project, and Patterson's life and declining health from HIV.
"The Last Word" will feature photographs from the project, and a reception feauring photos, handwritten bible verses, and other items. The event is free and open to the public at Spencertown's St. Peter's Presbyterian Church on Saturday, May 11, at 6pm. There is a suggested $15 donation to benefit the Friends of St. Peter's Presbyterian Church, as well as the completion of the book-binding process.