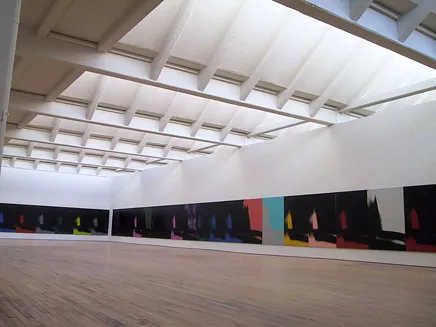 Lyn Rice Architects
Dia:Beacon
Ten years ago, Dia:Beacon settled into a former Nabisco box printing facility and opened its doors as a contemporary art museum. Now the Dia Art Foundation is commemorating the anniversary with a yearlong celebration featuring special exhibitions, programs, and events.
The 10th anniversary celebration begins on Saturday, May 18, with Community Free Day. People who live in Columbia, Dutchess, Greene, Orange, Putnam, Rockland, Sullivan, Ulster, and Westchester Counties receive free admission to the museum's 22 galleries throughout the day.
Community Free Day will include thematic tours; a sound-art project for children and families; a public reading of On Kawara's One Million Years; and the opening of a new collection dedicated to the works of Alighiero e Boetti, the late Italian conceptual artist.
The public reading of One Million Years (1969) is the first live reading of the work—which contemplates the passage and marking of time—at Dia:Beacon. The first audio presentation of the reading took place in 1993 in conjunction with Kawara's yearlong solo exhibition "One Thousand Days One Million Years" at Dia Center for the Arts in New York.
Featuring an installation of Alighiero e Boetti's embroidered works and large-scale works on paper, the new exhibition opens on May 18 and will remain on view until February 17. Selected from Dia's permanent collection, the works include Ammazzare il Tempo (1978), Mappa (1972), Opera Postale (1980), Untitled (January-December) (1986), and Untitled (Victoria Boogie Woogie) (1972)—which consists of 5,040 envelopes the artist mailed to himself in Turin from different cities in Italy.
Between May and August 2013, the museum will host Mitch McEwen on Robert Irwin; Community Free Day in collaboration with Glynwood; Frances Richard on Louise Lawler; and Anastasia Aukeman on Bernd and Hilla Becher.
Dia:Beacon's 10th anniversary celebration starts on May 18, and will continue into spring 2014 with several more Community Free Days, gallery talks, and other special events.