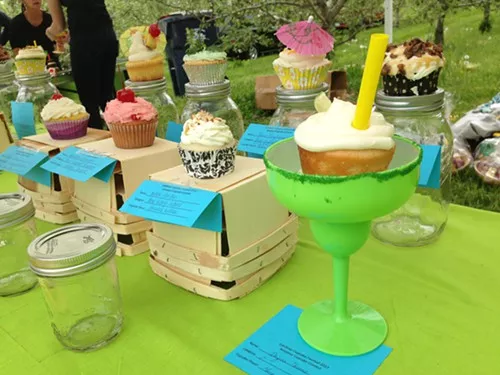 Hudson Valley Good Stuff/Vanessa Ahern
Best Cocktail Theme cupcake category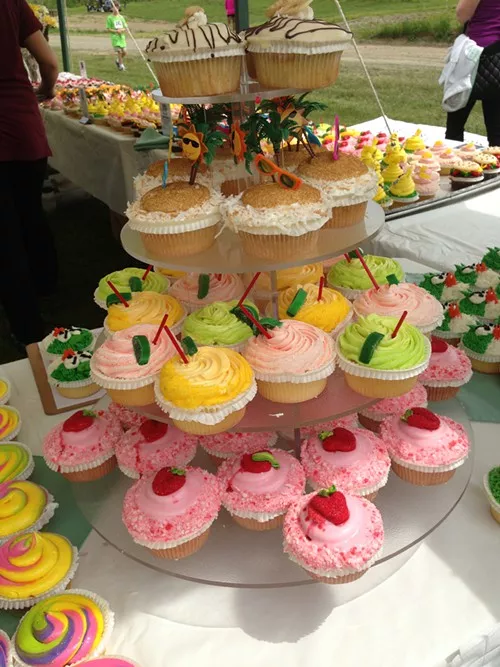 Deising's Bakery cupcakes for sale
I had a great time at the 5th Annual Gardiner Cupcake Festival at Wright's Farm on Saturday. It is a food blogger's dream! (It was my 4th cupcake festival. I missed the first one.) My favorite part of the festival is being a judge at the amateur cupcake baking contest. (Last year was my first time being a judge, and in 2013 I was the only returning judge.) On Saturday, I was joined by three media judges: Jennifer Phanomrat from Just Eat Life and the online show "Tasty Memories," Kathleen Reynolds from Edible Hudson Valley, and Mark Bolger from 97.7 FM in Poughkeepsie who hosts the "Mark Bolger in the Morning" radio show.
I was asked to arrive there at 11am, but the judging didn't really start until 1pm. That was fine though because I beat the cupcake traffic coming into Gardiner, and took advantage of the time by taking photos and meeting the different cupcake vendors (Deising's, Kupcake Kouture, Mid-Hudson Cakes, and Peace, Love & Cupcakes to name a few) before the crowds. I also caught a few of the front runners finishing the first ever Cupcake Classic 5K at Wright's Farm.
There were over 30 cupcakes in all of the categories that had to be judged by tasting: best tasting category, most unique ingredient category, and best tasting cocktail themed category. For the best animal theme, best decorated, and best use of multiple cupcakes, we judged from appearance, and didn't taste them.
The judges huddled in a corner, trying one cupcake at a time. (Two young women from Wright's Farm, Delaney and Sara, cut each cupcake into four, as we tried them one at a time, scoring each one.) After we tasted about 15 of them, we ate smaller and smaller bites, but even when you taste 20 cupcakes, you can still notice an exceptional one that has everything going on—moist cake, oozy tasty icing, and maybe a surprise ingredient you didn't expect. (To the baker who included what felt like a shot of Kahlua in one of them—thank you!)
Once the judging was over, I walked around to check out the cupcake vendors again, took a few more photos, and bought six cupcakes to bring home to the family. There was plenty more to do though. Families danced to the live music, kids enjoyed face painting, pony rides, and a bouncy house. There were $40 helicopter rides. (I'll do that next year!) I love cupcakes, but I am always happy to stop after tasting 30 or so. Did you go to the Gardiner Cupcake Festival? Which cupcake was your favorite?
Please visit the Hudson Valley Good Stuff Facebook Fan Page (and Like it too while you're at it) for more photos from the Gardiner Cupcake Festival. Follow Vanessa Ahern's Hudson Valley adventures at HVGoodStuff.com