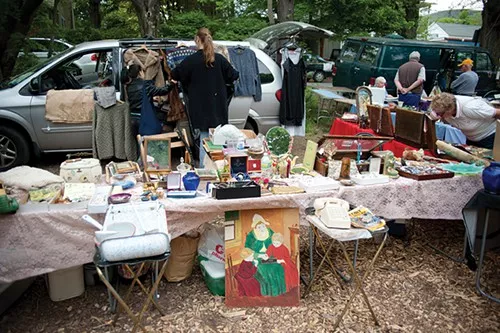 Mower's Flea Market in Woodstock
It's the season of the curiously named flea market. The term, which was first introduced in Paris in the early 1920s with the colloquialism marché aux puces, stemmed from the idea that the secondhand goods being sold contained fleas. A different (perhaps even more disconcerting) understanding of the phrase is that we, the shoppers, are the fleas—wingless, bloodsucking insects that leap around, from table to table, feeding on warm-blooded animals (or in this analogy, vendors). In any case, flea market browsing is a classic Memorial Day weekend activity. Here are our top five picks for flea markets in the Hudson Valley for your holiday weekend. Bonne chance!
1. Stormville Airport Antique Show and Flea Market
The Stormville Flea Market started in 1970 with six tables and a handful of vendors. Now in its 42nd season, over 600 vendors offer merchandise, including antiques and collectables, arts and crafts, and jewelry and apparel. Six shows are held per year at the private, abandoned airport in Dutchess County—Memorial Day weekend being one of them. There will be food vendors as well as a kid's area offering inflatable slides, bounce houses, and games for a nominal fee. Admission and parking are free.
2. Beacon Flea Market
Held every Sunday in one of the Hudson Valley's most vibrant towns, the Beacon Flea Market features a wide array of vendors, with items ranging from furniture to vintage designer bags to retro cookware. Their website is updated every week with a sneak peak of the merchandise that will be available at the upcoming Sunday sale. As a way of supporting the local economy, the Beacon Flea doesn't sell food on premise. Spend the day treasure hunting, then grab a beer at The Hop or tacos at Tito Santana Taqueria.
3. Mower's Flea Market
Just one block from Woodstock's Village Green (on Maple Lane right behind Bread Alone) is the outdoor weekend Mower's Market, now in its 36th season. Shop for antiques and collectibles, crafts and jewelry, food and plants, home furnishings, and books by local authors. Vendors include Sharon London Vintage and Design and Paisley's Country Gallery, specializing in baskets and ethnic textiles. The weekend market will be open on Memorial Day Monday, as well.
4. Rinaldi's Flea Market
Located at 900 Dutchess Turnpike in Poughkeepsie, Rinaldi's market is run by local Bill Rinaldi, who has been in the auction and flea market industry for over 40 years. In addition to running his own auction firm and appraisal business, Rinaldi holds a flea market every Sunday from April to November, featuring furniture, tools, antiques, records, books, jewelry, and clothing.
5. Middletown Flea Market
If it's a rainy day, but you've still got an itch to shop, Middletown's flea market is indoors and open year-round every weekend. Located on Dolson Avenue, Middletown's is the Hudson Valley's largest Indoor flea market, with over 200 booths, a food court, snack vendors, and a kid's zone. They also sometimes host special events, like karaoke, petting zoos, and car shows.