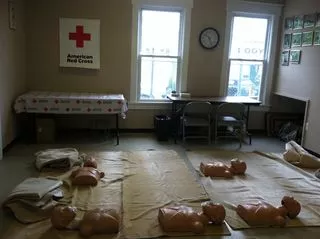 The Red Cross CPR class set-up
Last Sunday night I stood in the small foyer of Bearsville Theater after 8pm waiting online for my concert wristband with a dozen other latecomers. A middle-aged man standing right next to me suddenly collapsed to the floor. It happened so quickly. While a young man standing next to me sprung into action to help him, and another person called 911, I thought about the CPR/First Aid class I took two years ago. I was relieved when the patient regained consciousness on his own, and I could see him whispering something to the young man. The ambulance showed up within minutes, and I overheard the young man who helped him say that he was a volunteer EMT. I took a CPR/First Aid certification class two years ago, and I'm due for a refresher.
For ages, getting CPR certification had been on my to-do list, and in May 2011, I finally took the CPR Adult/Child First Aid Class at my local Red Cross chapter. (I took this class in Kingston, but the Red Cross has since moved, so I will have to either go to the Poughkeepsie location or find a local firehouse or contact the American Heart Association for CPR training classes.) The class started at 8:30am and ended at 5:30pm. It was a long day for me, as I'm not used to sitting at a desk for that amount of time anymore, and I haven't taken a test in 20 years.
Those who only signed up for the CPR Adult certification left at 1pm. There was a lunch break, and the class resumed around 2pm with Child/Infant CPR training, followed by First Aid. Diane was a great instructor. She gave our group of about 15 a lot of good examples from her years as a volunteer that helped me remember certain things. I found it very helpful to follow along with the DVD instructions during the training too. We paired up into "victim/responder" teams to practice different procedures like how to roll an unconscious patient face up or into recovery position.
Visit Ulster County Red Cross for more info on volunteering and classes. I was able to get a few good leads for CPR training classes by calling the Dutchess County Regional Chapter of the American Heart Association in Poughkeepsie at (845) 485-4703. Dale Seroff is a nurse and teaches American Heart Association CPR and first aid at Health Alliance, and also offers private classes. Her email is dsrff@aol.com.
Go get certified or re-certified! You never know when you might need it, and you do learn a lot in one day. From my own life in the past five years, I've been thrown into health emergencies at home in the middle of the night during a blizzard, on vacation in Florida, and most recently while waiting for concert tickets!
Vanessa Ahern is editor of Hudson Valley Good Stuff, a blog that covers where to eat, play, and recharge your spirit in the Hudson Valley.