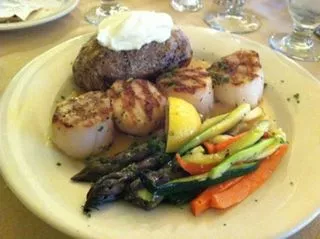 Diver Scallops at Land & Sea Grill Steakhouse in Saugerties
My husband and I have delicious dinners at the Land and Sea Grill and Steakhouse in Saugerties on special occasions. On Friday nights in the spring and summer, you may spot people in equestrian attire—maybe HITS participants? This is the kind of place that once you go, you have to return because you end up craving the food. It is that good!
Once I had a cravings for their scallops, and I was dismayed when I didn't see it on the menu, but then I realized the Diver Scallops were on the specials menu. My husband ordered the veal scalopini, which was delicious. We shared a smoked salmon plate and crab cakes to start. For dessert we split the warm fresh cherry tart a la mode. Entrees range from $17-$32 so it is expensive—dinner for two with wine came out to about $100. We only dine here once in a blue moon. It is a great place to splurge on date night in the Hudson Valley. They also offer a tapas menu, and have frequent wine-tasting dinners. Service is always excellent too. Land and Sea Grill Steakhouse is right near exit 20 on the NYS thruway (right near the Hess gas station on Rt. 212).
Visit Hudson Valley Good Stuff for more date night ideas, and where to eat, play, and recharge your spirit in the Hudson Valley.