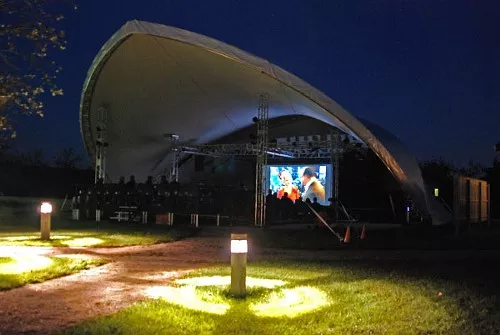 Preforming Spaces for the 21st Century, or PS21, is located on an apple orchard outside of the rural town of Chatham. The seasonal performance tent is installed at the beginning of each summer and rests on 18 acres of a 100-acre nature preservation. This year's performance-based events include music, theater, dance, film, and community and kids events.
Their eighth season kicks off this Sunday, June 9, with a talk and demonstration on the history and styles of the banjo with Steve Reilly. Running through the end of August, season highlights include three string players from diverse musical and cultural backgrounds, including West African kora king Zal Idrissa Sissokho on June 22. With his 21-string West African harp and his Buntalo quintet, Sissokho delivers a sound that ranges from traditional chants of his region to original Afro-funk. Also to perform is banjoist Tony Trischka on June 29, whose recording Double Banjo Bluegrass Spectacular received an award from the International Bluegrass Music Association and a Grammy nomination. PS21's Community Lawn Concerts, which is featured on three Sundays of their summer season, include rock 'n' roll and R&B with the Chandler Travis Philharmonic, a nine-piece funk band, on June 23.
PS21 invites audiences to enjoy picnicking and strolling around the grounds before or during performances. PS21 was inaugurated in June 2006 as a space dedicated to the arts preserving internationally recognized music ensembles, dance companies, and theater.
To read more about PS21 and other summer music festivals, check out our 2013 summer music festival roundup here.