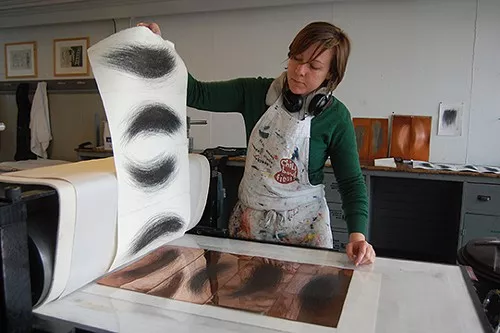 Courtesy Women's Studio Workshop
Women's Studio Workshop artist creating a handmade book at the studio in Rosendale.
It is typical for the Women's Studio Workshop in Rosendale to receive requests for their artists' hand-bound books from esteemed institutions in the United States as well as from around the world. However, their most recent sale may be the most noteworthy yet: In May the workshop sold the works of over 200 artists to the Library of Congress, our national research library, for $52,000.
The newly acquired selection is incredibly diverse, encapsulating multiple genres from poetry to history to ecology. Though the breadth of the collection is certainly part of its appeal, Mark Dimunation, chief of rare books and the special collections division, says the books were selected not only because of their rich content, but because of their artistic merits. The care and artistry put into each work is what makes them "critically important works of art" as well as prestigious additions to the nation's library, according to Dimunation.
The reputation of the Women's Studio Workshop almost guarantees artists will receive recognition from such prestigious institutions. Since their establishment in 1974, the workshop has hosted more than 5,000 artists, all of whom acquire residency through a competitive application process. Out of the dozens that seek to garner a spot in the Workshop, only four or five are chosen each year. Once selected, artists-in-residence have the freedom to pursue their own projects independently with the support of the studio's directors as well as their fellow artists.
These artists come to the Women's Studio Workshop to engage with media which, to some, may seem obsolete—paper and books. However, their creations function both aesthetically and conventionally, with some books taking on a traditional form and others evolving into elaborate, nonliterary pieces of art. For the women whose works will be on display in the Library of Congress, artistry intersects with history as their pieces become a part of not only their personal journeys, but the nation's legacy.