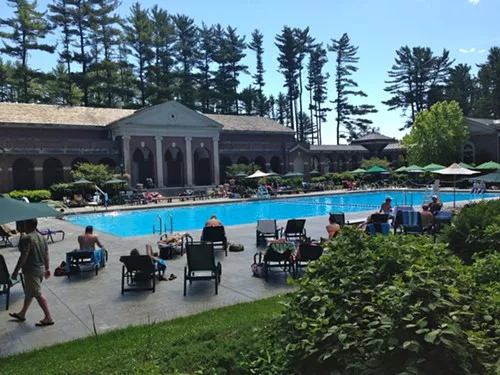 Victoria Pool at Saratoga Spa State Park
This past weekend my husband and I went on a day trip to Saratoga Spa State Park. We take the kids to Saratoga Springs once a year for an overnight getaway, but we always go in the winter. This was our first time going without the kids and during the summer season, so it was a totally different experience. We decided to check out the Victoria Pool, which is inside the Saratoga Spa State Park. It was constructed in 1934 so it has a bit of that 1940's retro feel, especially in the charmingly spartan locker rooms.
It is a perfect place to sunbathe and swim though very few people were swimming because the water was ice cold. I did go for a one minute dip though. There is also a lift chair for swimmers in wheelchairs. There is a cafe and bar right next to the pool separated by a rope, so I had a margarita and a veggie burger and sweet potato fries for lunch. Entry fee is $8 for adults and $4 for kids. There were a few kids here, but the crowd was made up of mostly singles, couples, and groups of friends.
If you are traveling with kids, then go check out the Peerless Pool Complex at Saratoga Spa State Park. I haven't been there, but Saratoga.com has a good article about it. At the Victoria Pool, I felt as though I had been transported to a secret pool club! If you are staying at a the Gideon Putnam hotel in Saratoga Springs, admission is free. Bring your own towels because there are no towels for rent here. If you are set on relaxing in a lounge chair, get here early.
Follow Hudson Valley Good Stuff for where to eat, play, and recharge your spirit in the Hudson Valley.