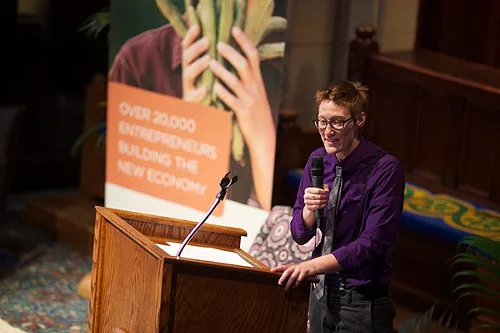 Love was in the air at this year's annual BALLE conference, which was held in Buffalo June 12-14 (and which Luminary Publishing was proud to co-sponsor).
BALLE stands for Business Alliance for Local Living Economies, a mouthful of a phrase that would probably have been jettisoned long ago were it not for the considerable name recognition its acronym has grown to command. With eighty local and regional networks, BALLE is a booming organization in support of a booming movement, localism, which is built around the notion that we'll all be better off if we wean ourselves from the global economic teat and instead support local businesses, local agriculture, and other local institutions. If you have any doubts about localism's trajectory, consider how many restaurants currently promote their local sourcing of ingredients compared to just a few years ago. BALLE has had more than a little to do with this transformation: It's been a firestarter.
At this year's gathering of about 600 attendees, a striking number of presentations talked about the importance of opening the heart. MIT professor Otto Scharmer spoke of the need to pass thoughts through the heart and reflective centers. Spiritual change agent Nipun Mehta combined the legacies of Gandhi and Buckminster Fuller in an intriguing exploration of "designing for generosity"—how do you get people to lead from the heart instead of acting out of pure self-interest or in hope of a fair exchange? Nikki Henderson, the charismatic executive director of People's Grocery in West Oakland, CA, gave a rousing speech that was devoted, among other things, to the need for celebration. BALLE executive director Michelle Long's plenary address was as memorable for its bold "PDE" ("Public Display of Emotion") as for its content.
Why so much emphasis on the soft stuff? One can only speculate, but I get the sense that the BALLE powers-that-be decided the time had come to better integrate head and heart. This direction makes sense, given that the move has a sound strategic basis—"integral" decisions tend to be more insightful and sound—and a spiritual one as well—generosity, celebration, and contemplative self-reflection are all big karma-earners.
Somehow the BALLE speakers managed to address these topics without tumbling into New Age preciousness. (My Fatuousness Meter stayed at zero throughout the gathering.) Still, something was missing. Years ago, Albert Einstein famously (and by now, given all the repetition it's got, banally) wrote that "You can't solve a problem at the level at which it was created." To make good decisions, he was saying, we need to climb up the ladder of awareness and engage the world at a higher level of consciousness. This way of being in the world includes everything the BALLE speakers discussed—integrating head and heart, practicing generosity, celebrating celebration—but it's also more than that. It's about totally shifting our psychological set point, about carving new neural pathways that make us fundamentally wiser and more compassionate.
The basic premise here is, if we're gonna save the planet, we need a generation of leaders that's climbed the ladder of consciousness so as to be fundamentally more emotionally and spiritually evolved than the generation that got us into this mess. At the BALLE conference, I wish I'd heard more discussion (meta-discussion, really) about the importance of levels of consciousness, although in fairness I couldn't be everywhere and may simply have missed it.
Be that as it may, Scharmer, Mehta, Henderson and Long left the gathered localists with important reminders to chew on. Like, eschew the strictly technocratic. Keep your heart open even when it wants to close. Stay present.
And, last but not least: celebrate, celebrate, celebrate!
Carl Frankel has been writing about sustainability, socially responsible business and localism for over 20 years. His most recent book, The Art of Social Enterprise: Business as if People Mattered, was published in Spring 2013 and co-authored with social enterprise lawyer Allen Bromberger.