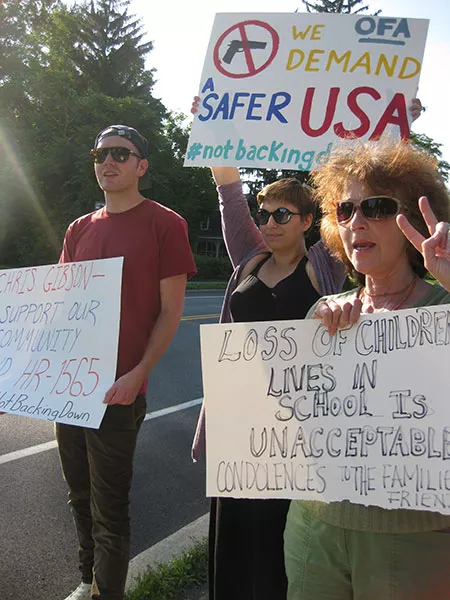 Ally Smith
OFA members rally against gun violence
Over 30,000 Americans die each year at the barrel of a gun. For a small but committed group of local activists, that's a statistic that demands action.
The activists, who are affiliated with the national group Organizing for Action (OFA), have committed to holding weekly candlelight vigils throughout the summer until congress acts to stop gun violence. The first vigil took place at the Rondout Gazebo in Kingston on Thursday, June 13, the six-month anniversary of the Newtown school shootings. A second was held on June 20 in Hyde Park.
OFA, which was born out of Barack Obama's 2008 presidential campaign, aims to mobilize people around progressive issues such as immigration reform, fighting climate change and job creation. They argue that "commonsense measures" on gun control are supported by the vast majority of Americans, held back only by a stubborn congressional minority.
Yet congress members opposed to gun control have so far been successful in at least temporarily defeating policies favored by gun control advocates, such as a ban on assault weapons. In an attempt to get around the gridlock, OFA is narrowing its focus to pressure the Hudson Valley's local congressmen Chris Gibson and Sean Patrick Maloney into supporting the expansion and strengthening of background checks.
Fueled by recent mass shootings in Tuscon, Aurora, and Newtown, advocates of gun control have become increasingly vocal, flipping the script on outspoken pro-gun groups like the NRA. According to OFA members, their newly found voice arises from the belief that now is the time to act.
As one activist put it, "There are moments in history when we all need to step up, and this is one of those moments."
Visit Hudson Valley Organizing for Action's Google Site for more information on how to get involved.