The Lobster Salad at Mariner's Harbor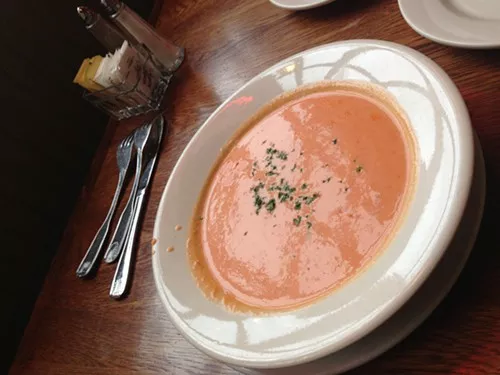 Lobster Bisque at Mariner's Harbor
My husband and I dined at Mariner's Harbor restaurant last night with our daughter. We had a gift certificate that we won at a fundraiser last month, and we were looking forward to a dinner on the Rondout even though the weather was a bit dreary. I have been on the Whole30 program since mid-July so I was happy to see a few Paleo-friendly dishes on the menu. (In case you are wondering, during the Whole30 program I must avoid all grains, gluten, dairy, sugar, alcohol, and beans for 30 days, and then slowly reintroduce them in order to see what wrecks my system, and which foods agree with me. Stay tuned for the results! The first week was tough, but I'm feeling better now. My jeans are feeling looser, and my face feels and looks less puffy.
Tom ordered the lobster bisque soup to start, and I started with Thai chicken lettuce wraps. The Thai chicken was good, but I was expecting it to look more like a lettuce cup. My daughter wanted to try the lobster bisque and liked it so much that she ended up finishing the entire bowl, so my husband ordered a bowl of New England clam chowder.
For our entrees: kids grilled cheese, bistro salad without the blue cheese, and lobster salad. Everything was very fresh and yummy. We sat in the dining room since it was a little quieter than the main bar area. There is a nice view of the water. I forgot to take a photo of that view, but it was raining anyway so you're not missing too much. We skipped dessert and coffee.
Read more restaurant reviews at Hudson Valley Good Stuff, the blog about where to eat, play and recharge your spirit in the Hudson Valley.