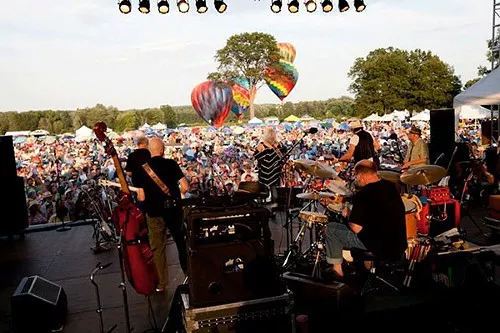 facebook.com/greenriverfestival
Emmylou Harris performing at the 2011 Green River Festival
Green River Festival, a two-day American roots-oriented concert in Greenfield, Massachusetts, jams out from July 20 to 21. On the sunny fields of Greenfield Community College, a total of 32 bands are set to perform, including gypsy punk misfits Gogol Bordello and folk singer-songwriter Brandi Carlile. Along with the top headliners, a large lineup of local bands will also perform, including Bunk and The Sun Parade. This summer festival, originally started as a hot air balloon festival, has featured countless of popular acts in the past, including Grace Potter and the Nocturnals and the Avett Brothers.
The music celebration's most popular feature is its 45-minute hot air balloon rides over the festival grounds. The zero-waste festival also promotes the consumption of green products, with 37 craft vendors selling goods like purses made of weaved plastic bags, solar electric systems, and repurposed metal jewelry made of scraps. The festival also features 17 international food trucks including Michael's savory waffles and dumplings; Happy Hempsters's hemp-filled bars, quiches, and shakes; and Hattapon's Thai Kitchen. Some family-friendly weekend activities to look out for include a craft tent and Roamin' Railroad, a trackless train that rides on the field next to the hot air balloon rides. A blinking sky-high air balloon light show will cap off the celebration on Saturday night.
The Green River Festival is on July 20 and 21 at Greenfield Community College. For more information, visit the Green River Festival website.