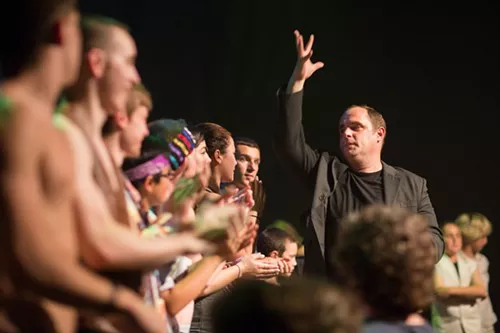 Phil Mansfield Photography
Paul Green Takes a Bow
Last month I sat down at Bread Alone in Woodstock to meet Paul Green, founder of The Paul Green Rock Academy in Woodstock. Seventeen years ago he started School of Rock, a music school franchise in his living room. After selling the business, he moved to Woodstock and is now intensely focused on developing one really amazing music program in Woodstock. The Rock Academy has a full-year program, as well as one-week summer camps.
"We have rolling admission. If we get a kid in 7th grade, we want them through high school. Right now we have about 50 kids enrolled, which is a great start, and we'll cap enrollment at 160," says Green. Many of his alumni have become successful, and are on their way to stardom. He points to Katie Jacoby who plays the violin in the Trans Siberian, another student, C. J. Tywoniak, played guitar in the movie Rock of Ages. Even shy introverted kids can excel at Rock Academy. "Shy is as shy does. You never know. You see the most popular out-spoken who freezes. It's this kid needs to be pushed and this kid needs to be turned up and turned down,'" says Green making his point with hand gestures, adjusting invisible volume controls.
There are many scholarship opportunities at Rock Academy. "I would never have been able to afford this when I was a kid so it is important to me to have these scholarships," says Green. All the two-hour shows Rock Academy produces have an intermission. Paul Green just announced three new shows for the fall: Tribute to The Who, Tribute to The Grateful Dead and Beach Party, as well as the formation of Rock Academy's touring group, Show Band. "We have a catalog of 50 shows we put on. It only takes us 3-4 years to go through each catalog. We have more drummers than we need right now so we did the Grateful Dead. If we have a lot of singers, and we have a lot of singers, we'll do Queen. We want to put on good shows," says Green.
In June Rock Academy produced Pink Floyd's The Wall. "Kids can really get into it, there are sort of big ideas in it. It feels a bit risqué, but not really. It is just a great way to introduce kids to rock. And Led Zeppelin is just the greatest rock and roll band of all time!" says Green.
The Wall show sold 450 tickets over two nights at Byrdcliffe. "Everyone who came loved it, and we were sold out with standing room only," says Green. "We're building our own venue at our own location, and it's a great big space so we'll never have this problem again." (In July the Rock Academy began renting the Woodstock Jewish Congregation space.)
The intensive summer camps have been added to the mix. All the teachers at the Rock Academy summer camps are working professional musicians like Aaron Freeman (aka Gene Ween), Tracy Bonham, Jason Bowman, and many others. The teaching method is very hands on, interactive, and the students are encouraged to jam and practice whenever they can. Green is passionate about teaching kids rock and roll and not one to hold back his opinion.
"Teaching music is about cult of personality. I'm a big believer in 'I'm the teacher, you're the student' education which is not the norm anymore," explains Green, who is not amused when parents ask him if the kids can pick the music they want to perform. "What kind of question is that? I'll make you a deal: When Princeton asks the students to pick the books, we'll let the students pick the songs," says Green.
The Rock Academy is still taking applications for summer camp, except for the session that is led by Marco Benevento, which is already in progress. "I just want to do one school and make it the best. If people have to travel two hours to it so be it," he says referring to the Hudson Valley weekender students. For more information on the Rock Academy visit their website.
This just in: Gail Ann Dorsey is adding John Ashton from the Psychedelic Furs to her songwriting camp!
Visit HudsonValleyGoodStuff.com for where to eat, play & recharge your spirit in the Hudson Valley.