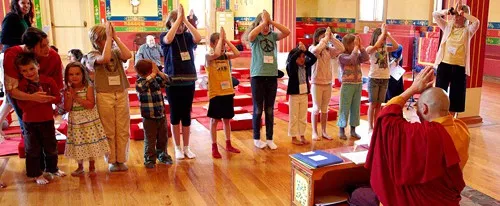 My 4-year-old daughter came home from Family Day last weekend at
Karma Triyana Dharmachakra
monastery proudly holding a picture she had colored of the famous Tibetan Buddhist yogi and poet Milarepa. Her 8-year-old sister told me the story of Milarepa, who was so peaceful from meditation that everyone who met him instantly turned peaceful too.
Had some of the calm rubbed off on my own little Buddhas? Maybe it had. In any event, Family Day at the monastery sounded like a grand idea - good for small bodies and minds. With a little research, I found three Hudson Valley monasteries that open their doors to families with ongoing events:
Once a month, Zen Mountain Monastery in Mt. Tremper offers a three-hour Zen Kids/Teens Sunday Program. Loosely structured around a theme, these events engage kids in the natural world surrounding the monastery, and then enfold these experiences into art, storytelling, or some other creative expression. The morning includes snack time and outside play, and ends to coincide with lunch at the monastery (families are welcome).
Sky Lake, a spiritual center in the Shambhala Buddhist tradition nestled in the woods of Rosendale, has kids' events fairly regularly. The next program is this Monday, Aug. 26 - a Dharma Kids Music & Art Day that includes drawing and writing with Barbara Bash and rhythmic movement with Timothy Quigley.
And Karma Triyana Dharmachakra monastery, in Woodstock, where my children went last weekend, offers an ongoing program called Bodhi Kids. Family Days engage both parents and children, using storytelling, the arts, and environmental awareness to convey Buddhist teachings in a way that young minds can absorb. Lunch at the monastery is part of the daylong program.
Start them early, and who knows? We might have enlightened little beings on our hands.