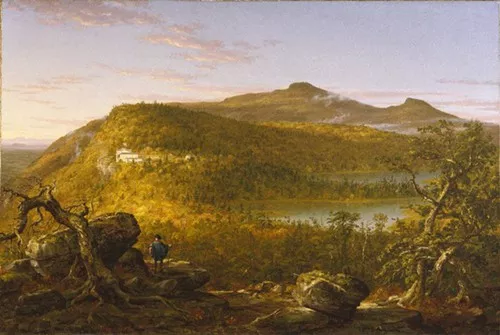 Wikipedia Commons
Thomas Cole, 1844 "A View of the Two Lakes and Mountain House, Catskill Mountains, Morning
Regional art: art of, from, some region. "Regional art": art that's inferior to ballyhooed Universal art. Universal art: art that is superior, universally trenchant and available usually in your run of the mill Cosmopolises, say New York, London or Paris. The conceit goes that Universal art is art of the ages and more often then not, it's now found in Brooklyn. If it can make it there it can make it anywhere. "Regional art" is parochial, narrow in its concerns and therefore, bad.
The expression "Regional art" sticks to me like hot road tar in my sock less shoe. So, I'd like to offer for you a distinction between "Regional art" and regional art. "Regional art" is a pejorative term; regional art is a useful qualifier. Now, just this weekend, I'm exhibiting some of my recent work, along with 29 other artists at the Paramount Theater in Peekskill in service of Pete Seeger's "Return to Peekskill" concert. Two things about that: first off, well, really, anything in the service of Pete Seeger and his work is bound to be good and, further, useful. Second, even though a large number of those artists are based in New York City, there is a regional vibe to the show. After all, the show's about Pete Seeger's work and he has devoted his whole life to the kind of community art and community work and concerns that partly in his footsteps abound in this region, in the Hudson Valley. Moreover, I know the curators and most of the artists in the show and I know they do not have a parochial view to the work they've chosen. They, the curators, look at the work as embedded in certain types of conversations and have chosen works they think embody certain views of looking at the world.
I'm not sure though, if that's the account held up by people who talk of "Regional art."
"Regional art" is attached to parochialism. No, artists in the Hudson Valley are not "Regional artists"; they are regional artists. They are regional artists only in so far as they live and work in a specific place, here in the Hudson Valley. They have use and make use of the wide-open spaces here. They choose to work in studios—on the cheap relative to Brooklyn arm and leg prices—above a babbling brook, they enjoy the contemplative luxury of a tree lined view, a river view, out the window. Sure, they choose to move residence here, actively, from New York City and elsewhere to become embedded in the way of life here. But these artists show their work in galleries and museums in New York, in Los Angeles, in Chicago, London and Paris, in Universal art places alongside the great Universal artists. They count in their corner recent Guggenheim Fellowship recipients, celebrated artists who live quietly and get written about enthusiastically in the New York Times, artists who are historically important thinkers who've spent lifetimes thinking about working and making work in service of global, human concerns.
Consider this account of regional art and its conflation into "Regional art" in historical terms. The Hudson River School, usually taken as the paradigm of "Regional art" started in the 1830-40s as an attempt by a group of like-minded artists to rethink the landscape and landscape painting in the language of Romanticism. Their concerns were in-group common: a shared language by which one might communicate the ineffable. In their day they were the American avant-garde. Some now think of that work as quaint; some, obviously, think in error. However, contemporary Hudson Valley artists share no such common and, if you will, limited concern. Hudson Valley artists might be tagged as, say, environmentally conscious but that concern stems from their commons shadowed by fracking and that concern needn't show up in an obvious way in their work. Artists working in the Hudson are putting out work about war, social engagement, the environment beautiful and degraded, the history of object making and painterly process: art, in other words, as stellar as anything you'll find in Chelsea or Bushwick.
Why am I so concerned about this issue? I'm concerned because it seems to me that the view of the Hudson Valley as a place for "Regional art" is in some part behind the modest political economy of art-making here. Collectors and curators sometimes move from the sensible use of the expression regional art, to the rather more pejorative view with a capital R, for rejection. I've heard it argued that art here is somehow second-class and so galleries and non-profits have a hard time selling work and, therefore, expect to sell little of the work on display. The fault is in the region, as it were. That, in turn, makes it difficult to run a gallery, much less have a thriving gallery scene, arts institution scene in this town and that. Knowing this, young artists and curators who train in the Hudson Valley, at SUNY New Paltz, Bard and elsewhere seldom think twice of staying in the area and making a go at a career, a life. Good talent that would soon have found its place here shuffles along to Brooklyn. And who, here, in their right mind thinks that's a fine state of affairs?
So, curators and collectors need to know that work here is excellent. The work here is important and so far as their portfolios are concerned—if you or they want to think in that way—they are viable as commodities. So, work has to be supported on the only grounds it should be supported: that it is good in the conventional New York account (let's assume this is a valid account. I'm not sure it is, but let's assume it anyway) and that it contributes to conceptual, experiential exchange, artists to audience via institutions that support that exchange. Let us reject the "Regional" account of art. Let us do that by ceasing to talk about art of the Hudson Valley region, regional art. Let us talk about art in the Hudson Valley.
Let art be adjudicated without some necessary regional tag; help that happen and you will see, immediately, a sea change in the conversation about art here. Help along a different political economy of art and you will see a different art. But, really, what you'll see is a different way to evaluate the art here in the Hudson Valley, art that you've seen for years and years, the same excellent work that some had not thought to look at twice simply because the conventional view essentially amounted to the "move along folks, there's nothing to see here" account of art appreciation.