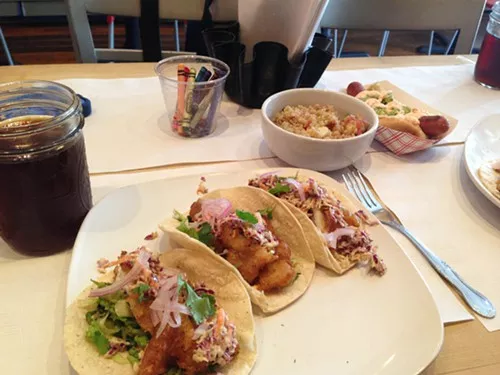 Gluten-free fish tacos, quinoa salad, and a hot dog with guacamole and chipolte cream
My husband and I had a very satisfying lunch at Soul Dog in Poughkeepsie last Thursday. The restaurant has been in Poughkeepsie for 8 years, but Susan Wysocki just took over the business in January 2013. (She also owns Babycakes Cafe near Vassar College). She was there assisting with the order taking when we were there. She definitely has pride of ownership, which from my experience, is a sign that the food is going to be really good, and it was! Comfort food like macaroni and cheese, baked beans, hot dogs, chili tops the menu, but we ordered the fish tacos, a quinoa salad special, and a hot dog with guacamole and chipolte cream sauce. To wash it all down, we drank home-brewed iced-teas.
The fish tacos are gluten-free and served on gluten-free corn tortilla. Though the serving size was modest, the meal kept me satisfied for hours. The quinoa salad was light and tasty. The hotdog was grilled just right, and I was happy with my topping selection. Wysocki says she will be changing the menu adding more locally made sausage, and other local fare to the menu. The bill for lunch came out to $34. I'd definitely return to try different dishes on the menu. The disco fries (fries that come with vegetable gravy and cheddar cheese) were tempting! There are board games and toys for kids by the window, and crayons on the table so it is very kid-friendly. It's 2 blocks east of the train station.
Read more restaurant reviews at Vanessa Ahern's blog, Hudson Valley Good Stuff and follow HVGS on Facebook.