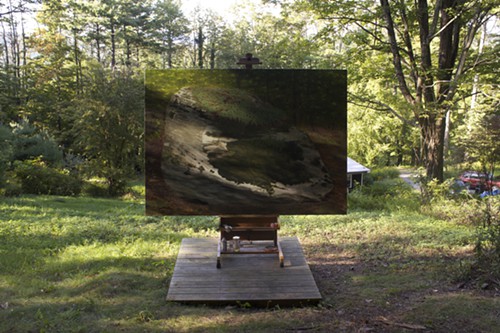 Image: Courtesy of the artist
"Untitled"
Keiko Sono's solo exhibition at Roos Arts, "Saunter and Repose," is an intimate affair. A handful of paintings, a video installation and some drawings, of the places that have been Sono's home, arranged and offered family style and rustic.
Sono is Japanese-American. She is an artist and a teacher. She lives in Bearsville, after a time in New York City and New Paltz. I offer these bits of biography because more than most artists her work turns on those facts. The work on view at Roos has the touch of Wabi-sabi: the encompassing traditional Japanese view that all things are imperfect and that moment by transient moment art should strive to capture the resonant beauty of that perfect imperfection. So, the work on view as you walk is arrayed a bit discontinuously, the large Portrait of a Rock next to a video installation encased in wood, paintings hung up somewhat here and there on the other wall. The gallery is presented as a rock garden. Time is here a scattershot marble; its narrative arc, a fiction. So why would you want to align your memory to some fiction? Better let that rock garden be.
Keiko and I sat down recently to chat about her work at Roos and in spaces around the corner. I've edited our conversation down a bit, but here it is:
Faheem: Backyard, a rock, a particular place over time. There's a lot of "place" in this show and I'm drawn to the relationship between your oils and your site-specific soot drawings and how they connect, conceptually. Can you talk a bit about place in your show? How are we to square that circle? Or is there no square, no circle? How does "home" work into this work?
Keiko: From the perspective of the show, Suspended Carbon installations and two-dimensional visual works such as video and paintings aren't meant to be seen in the same context. At Roos, I had the framed and boxed pieces because they are for cash-and-carry sales, for the Roos Mart, Heige Kim's shop in the back room. That's actually another "place" that matters to me, in so far as it's another moving part in the loom of our local art economy.
If you are thinking about my projects, say on my website, and wondering about the relations between them, I would say their shapes are more like roots and branches than a circle. The places in my paintings and places for the Suspended Carbon installation are not opposite to each other. In both cases it is about being in a state or a place that I seek, the feeling of rooting and dissolving, sensing the tingle on top of my head and in my toes, being stretched, connected, and absorbed into the external world. Sitting in front of the large rock that's portrayed in Portrait of a Rock certainly gave me that sensation, as did my experiences at KMOCA, Unison, and Imogen Holloway, as I spent the day into night listening to the silence of soot collecting on paper. The rock, ice, trees, empty room, storefront, these are all portals that lead me into that state of mind.
In all cases, I enjoy the feeling of temporary ownership of each particular place getting attached and feeling at home, and the melancholy of leaving home when the project is complete.

Faheem: This work, as the show title suggests, is related to the idea of examining things we walk around. It's also your first turn at painting in ten years. Stopping and smelling the roses. Moreover, there's reflexivity to that conceit, no? That there's "Saunter and Repose" and also, Repose and Saunter?
Keiko: Saunter and Repose represents many things to me, but for here and now, it is about receiving and giving. For years I'd been sauntering through the woods or the world receiving a daily dose of transcendence, big and small. Making art is an attempt at giving back. This is not necessarily an altruistic gesture. Constant sauntering wasn't giving me the dopamine kick that it used to. I needed something more potent. I needed to repose—stay in a particular place—and make work that would give me the ecstasy sauntering used to bring.
Portrait of a Rock is a bit of a return to painting. The reason I stopped painting was because I had achieved what I wanted to achieve in painting. In Maple Sapling (2003), the medium-size painting in the back room, I received the kick I sought, for the first time. There, you can say I completed the circle: I did the giving and receiving in the same painting.
But there was a problem. The momentum of giving and receiving could not be contained in a circle. Since I became the receiving end again, I had to give it away yet again, like a hot potato. I needed to find more recipients. That's when I stopped painting and let go of a studio. I spent the next ten years seeking and finding people who were after the same kicks. You saw them the other night at Roos, and on Facebook, at KMOCA, etc. It was only then that I could go back to painting, knowing that there are people beside myself who will receive it.
Faheem: What's the next move in this body of work? How do you have a different riff on place? Or are you moving to a different body of work?
Keiko: Suspended Carbon and the wall-based works, paintings and video, are two different bodies of work. Each will continue to evolve on its own, with peripheral influence on each other and creating hybrids along the way. My other current body of work deals with a larger and more complex take on "place," one that encompasses many places and realities. This is the "riff" that emerged as I set out to find people who were after the same kick as I was 10 years ago.
As my needs and priorities changed from my 30s to 40s, the obstacles in creating quality art shifted from inner limitation to external factors. So I got to the point where I could make work that pleased me. But then what? My children weren't getting fed and the mortgage wasn't getting paid. The outlook for the future, on every level, was increasingly looking bleak. Is great art still great if it wasn't out there doing what it is supposed to do, somehow making this world a little more tolerable, even instigating new ideas and more creation?
I saw this dilemma in pretty much every creative person's life as I expanded my social circle in the Hudson Valley. I was astounded to find such a great number of artists and artisans with talent and devotion and was relieved, interestingly, to see that I was not special. In almost every encounter, I found something that lifted my heart. And yet, I saw the same stagnancy in the flow of giving and receiving that I was experiencing in my own work. I felt that not only artists were compromised in this stale environment, but society at large was also being robbed of greater pleasure, food for soul.
So, it wasn't enough that we make art. We needed corridors, bridges, portals, pathways, breathing holes, that allowed our little bundles of transcendence to reach where they are needed most, and to keep flowing, evolving, and increasing.
This pathway building has been in action in the Hudson Valley at least since the Hudson River School artists and Transcendentalists came on the scene, but it seems to be gaining momentum now. As with so many of my colleagues, I have expanded my creative process to include community building. As much as I use brushes to apply paint in the hope that the resulting arrangement gives us the dopamine kick that keeps us going, I organize events in which incentives are arranged so as to lure artists to come out and play, making connections and sending their works out into the flow. You will see this in action in my next show at SUNY UCCC in which, with help from a team of artists, I am creating an installation as an interactive map of our community. I hope this map helps our community come together as a family