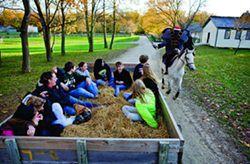 All Hallow's Eve, a day once known as "Hallowed Evening" or "Holy Evening," has departed far from its original intent of celebrating the Saints and praying for departed souls who have yet to ascend to heaven. Instead, Western culture has molded this Christian tradition into a day of light-hearted and spooky activities. American culture specifically has become a feeding ground for this macabre sensitivity, birthing Edgar Allan Poe's twisted tales of horror and misery, as well as Washington Irving's infamous legend of a beheaded man riding upon a black horse. For the Hudson Valley, Halloween rises from its grave each year with intense celebration and fosters activities the entire family can enjoy.
This season, start your Halloween festivities a bit early with man's best friend. On Saturday, October 26, dress your dog up in his best canine costume and march through Rhinebeck with Pause Dog Boutique. From decorated collars and bandanas to outrageous outfits and attire, all doggie costumes will be warranted. Prizes for best canine costume, cutest costume, scariest costume, and most creative costume will be awarded to select guests. Dressing up is encouraged for all guests, not just for the pups, and a prize for best group themed costume will also be up for grabs. After winners are announced, subsequent activities will commence. Owners can learn of their dog's characters and destinies as Madame Crystal Bones will perform paw readings. Rubber duckies adopted by guests and decorated in style will float down a manmade stream with a prize rewarded to the winner of the race. Dogs, both small and large, can refresh themselves in a pail of water as they "bob for apples." And, other than a Howl'oween photo (Boo!)th, a Jenga-styled dog treat stacking contest will determine who can build the tallest tower in under 30 seconds. Proceeds received from all events will be used to purchase and distribute dog food for local shelters.
Although adorable and intoxicating, dog's don't have to steal all of the Halloween fun. Families can become bewitched in the wonder of sculpture found at the Omi International Arts Center on Saturday, October 26 as they create their own artwork and participate in trick-or-treating. The Fields, an outdoor installment of nearly 80 works of art extending over 120+ acres, wetlands, and woodland. Guests can arrive in their favorite costumes and craft their own treat bags that will accompany them while trick-or-treating. Fall refreshments will be present, including cookies, popcorn, apples, and cider.
Immediately after leaving Omi, families can travel to Rhinebeck and hear the spooky tales of children's stories at Oblong Books & Music during October's installment of League of Extraordinary Readers: Spooky Tales for Halloween. This monthly event features children's book authors reading and signing copies of their original texts. In this chapter, A.J. Paquette will capture her young readership with excerpts from Rules of Ghosting, the tale of 12-year-old Dahlia who has spent 50 years at Silverton Manor as its resident ghost. This 2005 PEN New England Susan P. Bloom Award honoree received the 2008 SCBWI's Susan Landers Glass Scholarship Award for her book Nowhere Girl. Eisner-nominated cartoonist and author of popular middle school graphic novel series Knights of the Lunch Table Frank Cammuso will accompany Paquette. His book The Misadventures of Salem Hyde. Book 1: Spelling Trouble tells of Salem Hyde, a witch who keeps a feline companion named Lord Percival J. Whamsford III. And lastly, Greg Ruth, who has written and drawn for Dark Horse Comics, DC/Vertigo, and a collaborative text with Barack Obama titled Our Ending Spirit, will present his Scholastic graphic novel The Lost Boys, the tale of Nate and Tabitha who partner together to solve the mystery of a boy who went missing many years ago.
The following day, the Storm King Arts Center in New Windsor will host the timeless treat of pumpkin carving and face painting. Surrounded by fascinating installment art, families can carve pumpkins in the likeness of all the sculptures they see, while later transforming into animals indigenous to the Hudson Valley. Provided by Newburgh's location of Adam's Fairacre Farms, pumpkins will present at the event, waiting for disembowelment. Refreshments, including pumpkin spice squares and Valhrona hot cocoa, will be available at the Storm King Café.
However, if you cannot attend Storm King, do not fret, pumpkin carving is in no short supply. The Bakery in New Paltz will host Night of 100 Pumpkins on the eve of All Hallows Eve. The 23rd annual pumpkin carving and painting contest will feature pumpkin bread, cocoa, and hot cider, as well as several prizes for winning pumpkins. Guests can then travel to The Baker on Halloween night and see their jack-o-lanters lit up on display for the city.
And, of course, us north easterners must not forget about the hay rides, corn mazes, and haunted mansions indicative of our region. Halloween would not be the same without the heavy beating that accompanies the fright and terror these attractions permit. This year, Kevin McCurdy's Haunted Mansion in Wappingers Falls celebrates 37 years of fears. This interactive fright fest takes its guests through the streets of London after midnight, bringing to life many demented characters, including Jack the Ripper, Mr. Hyde, and Sweeny Todd. On November 1 and 2, Kevin McCurdy's features an exclusive zombie laser tag hunt. Ulster County residents can venture to The Barn of Terror in Lake Katrine. Behind the walls of this seemingly harmless barn lurk stark hallways and eight haunted rooms of terror. Adjacent to The Barn and down the hill stands a sea of corn stalks crawling with nightmarish creatures awaiting their next victims. Lastly, located in Ulster park sits the world-renowned Headless Horseman. Known for its innumerable awards and high tech terror, this Hudson Valley hotspot features six haunted houses, one hayride, one corn maze, and one walk-thru experience. Each event highlights its own narrative that propels audiences through the horror-havocked experience.
Whether dressing your pooch up as a dragon, carving a toothless smile into autumn's favorite vegetable, or flailing your arms while running for your life in a corn maze, you will never fine a shortage of Halloween-oriented activities in the Hudson Valley. Make sure to sport your kookiest costume and venture into the blood-curdling fright that fall has in store.