Roasted tomato and goat cheese frittata at Duo Bistro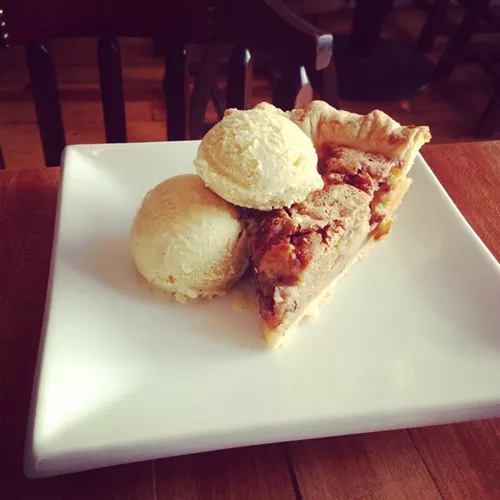 Chipmunk pie a la mode at Duo Bistro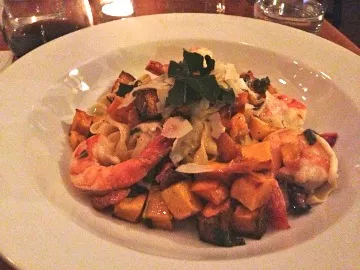 Hand-made fettucini with shrimp, roasted butternut squash and sage butter
My husband and I had two delicious meals at Duo Bistro in uptown Kingston during Hudson Valley Restaurant Week, which runs from Nov. 4th-Nov. 17th. Duo is one of six Ulster County restaurants participating. On Tuesday, we had the lunch pre-fixe ($19.95). For my appetizer I started with the vegan mushroom soup, for my entree I had the Goat Cheese & Roasted Tomato frittata on baguette. (By the way, they serve frittata often as a special so chances are you can have a kind of frittata after HVRW too).
My husband Tom had the Korean Bistro Burger for his lunch entree, and the soup to start. For our lunch dessert, I had the vegan dark chocolate truffles, and he had the chipmunk pie (apple and pecans), which was the pie of the day, with homemade vanilla ice cream. The truffles are the size of meatballs so I wrapped them up and enjoyed them later.
Friday night was date night so we tried out the Hudson Valley Restaurant Week dinner menu at Duo Bistro. (A friend of mine calls me a Duo-aholic!) I had the HVRW menu, and Tom decided to order the a la carte specials. I started with a Fall Panzanella, which is nice-sized salad with mixed greens and roasted fall squash and sourdough toasties. He had the buttermilk fried chicken liver special on baguette. (I don't eat chicken livers, but he loves them and says they were very good). For my entree, I had the hand-made fettucini with shrimp, roasted butternut squash, and sage butter. The fettucini was incredible. It just melted in my mouth. The serving portion was perfect, and it was very satisfying dish. I had a tiny bit of room for dessert, which comes with the pre-fixe menu and ordered the Pumpkin Bread trifle with cream cheese custard and rum raisin caramel. It was good too, but I couldn't finish it. (I had indulged in the Duo bread basket).
Vanessa Ahern writes about her Hudson Valley adventures at Hudson Valley Good Stuff, a blog she started in January 2009.