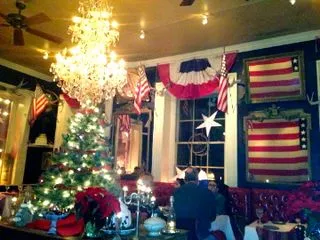 Liberty Public House in Rhinebeck
Liberty Burger & Freedom Fries
My husband and I had very interesting holiday date dinner at the Liberty Public House a year ago. After a friend told me that Liberty Public House had the best french fries in the Hudson Valley, I had to investigate! Although I have walked by this restaurant many times, I had never been inside it. (It took over the Starr Place restaurant location after Starr Place closed). When I entered, I felt like I had been whisked away to an old Washington, D.C. restaurant. American flags and American history memorobilia decorate the walls, and a glowing white Christmas tree sits atop a table in the center of the room. It was 6pm on Sunday night and the restaurant was starting to get crowded.
I had been craving potato pancakes all week after seeing so many friends post their latkes on Facebook so I was really excited to see potato pancakes as an appetizer on the menu. Tom had the house cured gravlax on potato crepes with sour cream and caviar. Liberty Public House has a nice wine list, and it was nice to drink a glass of Channing Daughters wine as I pass by that winery a million times when I'm in Long Island, but I never stop. The table next to us was going all out with champagne bottle service at the table.
For the entree, Tom enjoyed the Liberty burger & Freedom Fries. (And, yes those garlic fries were quite memorable!) For my entree, I had the grilled salmon with horseradish potatoes, which was cooked to perfection. We shared a toffee pudding with vanilla ice cream for dessert. After we left the restaurant, Tom said, "Wow! That was a strong meal!" I would have to agree with him.
Vanessa Ahern writes has been blogging about the Hudson Valley since 2009. Follow her Hudson Valley adventures at Hudson Valley Good Stuff, and sign up for her newsletter.