Page 2 of 3

For those more interested a nocturnal New Year's Eve, the Hudson Valley offers a range of music, dance, and food specials throughout the night.
Alexis P. Sutter Band at The Falcon
Marlboro's premier music and dining venue, The Falcon, will host a New Year's Celebration with the up-and-coming Alex P. Sutter Band. Lead singer and soul chanteuse, Sutter melds her bluesy bass/baritone voice with the funky beats of drummer Ray Grappone, bassist Peter Bennett, guitarist Jimmy Benny, and keyboardist Benny Harrison into a sound that reaches in the roots of soul, folk, and R&B. Since their inception, the group has headlined sold out crowds at BB King's NYC and performed alongside The Levon Helm Band. Dinner will begin at the Falcon at 5:30pm with Aubrey Haddard opening the show at 7pm. Haddard's mellow and sultry tracks blend elements of blues, soul, folk, and jazz, a talent that launched her into the finals in the 2012 Hudson Valley Voice Competition.
Sister Sparrow & The Dirty Birds at Club Helsinki
Club Helsinki carries the music clamor into Hudson with Sister Sparrow & The Dirty Birds. Headed by the raspy and soulful tones of vocalist Sister Sparrow (Arleigh Kincheloe), the band brings a dynamic edge to the contemporary face of soul-funk. Its multifaceted tracks fuse scratchy pop vocals with funky saxophone riff, ska drum beats, and bluesy guitar swells in upbeat and genre-defying performances. The band has earned a noteworthy reputation in the national news as publications rave about Sister Sparrow's vocals. "Frontwoman Arleigh Kincheloe has one of the biggest voices in the soul-funk business," Baltimore Sun. Prepare to be blown away." The performance will begin at 9pm.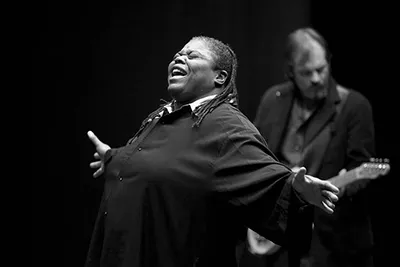 Alexispsutler.com
The Alexis P. Sutter Band will perform at The Falcon in Marlboro on New Years Eve alongside Aubrey Haddard.
Debbie Davis and Myles Mancuso at Towne Crier Cafe
After moving to a new location in Pete Seeger's hometown, Towne Crier Cafe has successfully integrated nouveau riche dining etiquette with the high-energy thrill of acclaimed musical performances. On New Year's Eve, guests can shake, rattle, and roll to the sounds of the Debbie Davies Blues Band and Myles Mancuso Band. "She wields an electric guitar as if it were a wand," the Los Angeles Times writes, commenting on the night's first performer, the blues singer/songwriter Debbie Davies. Awarded Best Contemporary Female Blues Artist at the Blues Music Awards in 1997 and 2010, Davies 2014 tour showcases numbers from her 16th studio album "Retrospective." Though many fans expected a "Best of" album from Davies after her years developing such a massive discography, the blues chanteuse chose a different route. The album "presents alternate recordings of tunes from earlier projects," Davies writes in her blog, "early recordings of tunes no one has heard yet." Myles Mancuso, otherwise known as "Mojo," will shred his guitar aside the seasoned blues veteran. Mancuso's soulful vocals and complex blues guitar riffs will explode on Towne Crier's stage as his band performs numbers from their recent studio album Blow My Blues Away. At the age of 18, Mancuso has garnered accolades from the industry's most renowned members, regarded as a child prodigy by national publications and celebrated by industry giants Levon Helm and Les Paul."
New Year's Eve Ramble at Levon Helm Studios Multi-instrumentalist composer and songwriter Marco Benevento brings his genre defying jazz-rock to Levon's hallowed barn to join the Midnight Ramble Band (Larry Campbell, Amy Helm, Jim Weider, et al.) for a raucous celebration of roots rock 'n roll.
New Year's Weekend at the Ashokan Center
For those looking for as much gyration in the hips as song on the lips, the Ashokan Center offers a weekend tailored perfect for souls akin to dance. While hosting visitors with their on- and off-site sleeping accommodations, the educational center and environmental retreat will prepare guests for the weekend of music and dance with its many featured classes. Master Swing and Slow Blues grooves with Cindy Overstreet and Cindy Ryan or spice things up at Cajun dance lessons with Corey Porche. The night will also include a selection of instrumental and vocal classes as well. Put your lessons to the test on New Year's Eve and boogie down with the night's musical extravaganza. Performers include Louisiana's Cajun and Creole band The Revelers, Tunescape and its cutting-edge contras, the swing, blues, contras and waltz numbers performed by Jay Ungar and Molly Mason with Swingology, and lastly, Vikki Armstrong and John Krumm for some more contra- and square-dancing music. Festivities will begin on the 29th. Guests do not have to spend the weekend to attend the New Year's Eve event.