click to enlarge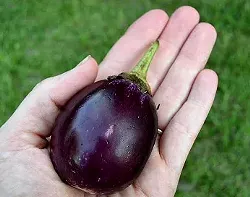 At the Albany Institute of History and Art I discovered a small glass artifact, with this label:
"Eggplant handwarmer, Redford Crown Glassworks, Clinton County, New York, circa 1830-1851. Handblown aquamarine glass in the shape of an eggplant."
But this was quite a small eggplant: maybe 3 inches long! The vegetable was topped by a carefully-shaped calyx, a stem — and was perfectly preserved, after 157* years; maybe it wasn't often used (because you can burn your hand on a glass handwarmer!).
This functional sculpture is a quadruple metaphor: glass as an eggplant, an eggplant as a radiator, a radiator that's transparent, an eggplant so small it's almost an egg. No doubt the design was influenced by the Biblical passage: "And an eggplant shall warm ye." (John 12:14)**
*Approximately.
**I made this up.