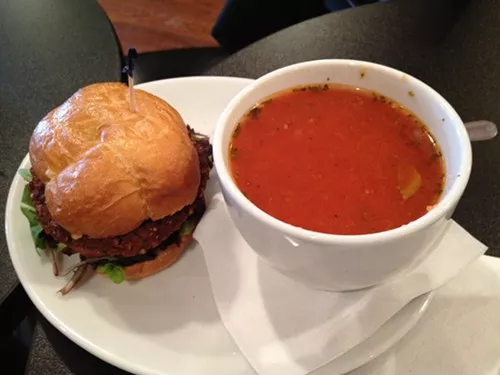 Quinoa Black Bean Burger & Tomato Rice Soup
On Sunday we decided to take go for a walk in Red Hook and have a light snack there. (I wanted to check out the juice place there, but it was closed). We kept on walking and ended up at The Enchanted Cafe on South Broadway. The cafe has been open for about 7 months. It's very inviting, with a beautiful sofa and chairs in the front, and a few small tables with cushions in the main area. The kids were immediately at ease. We were a little hungry so my husband and I shared a black bean quinoa burger which came on a brioche bun. My daughter, the soup enthusiast, had the tomato rice soup. My younger one had a hot chocolate. Joe, the owner came over and talked to us, and asked where we were from. He is a Bronx/Yonkers transplant. I think the people next to us were tourists from Eastern Europe. The server brought over a small bowl of healthy chips for the kids just to be nice. ( This woman was so over the top sweet to us, we assumed she was a member of the owner's family).
After our snack, the kids shared a chocolate cupcake with peppermint frosting. The Enchanted Cafe rents their artsy space out for small parties and events. They recently had a medium event (Johnny the Angel) and hosted a writing immersion workshop. Check out their website or Facebook page to see their events. It's a very cute place, and the food was delicious. I love any place that serves coffee in huge pretty cups and has a crystal display!
Follow writer Vanessa Ahern's blog Hudson Valley Good Stuff to find out where to play, eat & recharge your spirit in the Hudson Valley.