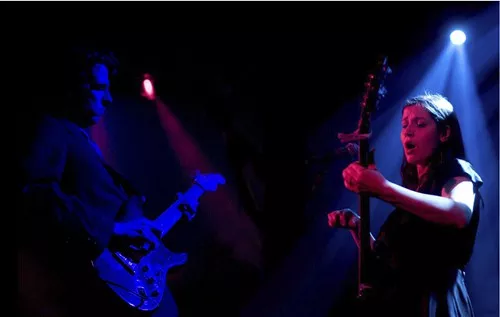 Rachel Loshak
's soft soprano, layered over the low tones of her bass guitar, is known for its trancelike, siren-call effect. But when that voice weaves together with Morgan Taylor's, what emerges is something different altogether. Something like love.
If Loshak and Taylor were not already married, their perfectly enmeshed voices would have run off together long ago. It's fitting that this husband-and-wife duo will be performing on Valentine's weekend at Byrdcliffe's Kleinart/James Center for the Arts in Woodstock. The up-close-and-personal show will be the perfect place to get a sense of their telepathically blended harmonies and acoustic string instrumentation.
Although the Woodstock musicians have been supporting each other's work for over 10 years, Loshak and Taylor each have a strong independent identity in the music world. Loshak has released six albums including her newest, So Bright (2013), with its intimate songs about love, motherhood, friendship, and death. Taylor performs often in the name of his children's music avatar, Gustafer Yellowgold, a friendly creature from the sun who has gained a following among little people here on Earth.
The February 16 concert at the Kleinart/James will benefit Planned Parenthood of the Mid-Hudson Valley, as well as raise money for a forthcoming album of duets that the couple will be writing and recording together throughout 2014. Get your tickets in advance for what promises to be an enchanted night.
WHAT: AN EVENING OF MUSIC WITH RACHEL LOSHAK AND MORGAN TAYLOR
WHERE: Byrdcliffe's Kleinart/James, 
36 Tinker Street,
 Woodstock, NY 12498
WHEN: Sunday, February 16, 2014, at 6:00 PM
TICKETS: $15 general admission, $10 online in advance