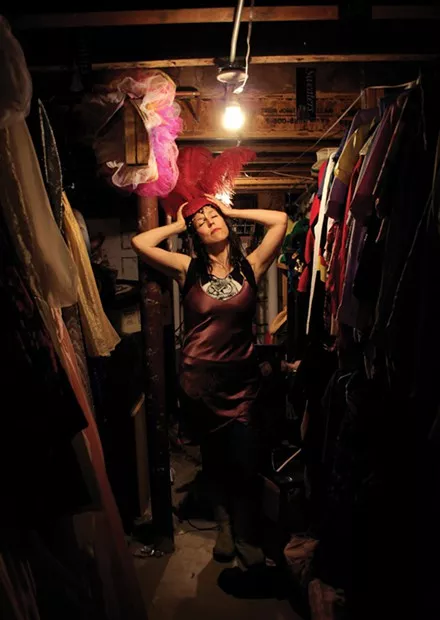 It's such a cool concept, how the Internet is now empowering artists and at the same time deepening their connections to fans via Kickstarter and other crowd-funding sites. Just last week I blogged right here about former Psychedelic Fur John Ashton's effort on behalf of his Satellite Paradiso project. Of course I can't fit everyone's fund drives in. There's just too many, and I have to cover other stuff. But the current campaign by the Hudson Valley's reigning psychedelic songstress Shana Falana has a nifty twist to it, and thus warrants a mention. And besides, her music is good.
Titled "Send Shana to Europe," Falana's present Indiegogo campaign is aimed at covering the expenses for her long-awaited European tour, slated for later this year. Among the several premiums she's offering to generous backers are downloads and limited-edition cassette copies of Shana Sings Herself to Sleep, a specially compiled album of rare early recordings. "The [album] is a living document of the mid-1990s San Francisco music scene that I grew up in," says Falana. "All of my different bands are represented here: '90s grunge with Thundersuite; two tracks produced by Kelley Stoltz, who I also used to drum for, my self-help singalong group the Wonder Sisters; and the Bulgarian women's choir I helped organize, Handmaiden America."
Falana talks about the campaign and Shana Sings Herself to Sleep in the video here:
Shana Falana's "Send Shana to Europe" Indiegogo campaign runs through February 27. To contribute and learn more, visit http://www.indiegogo.com/projects/send-shana-falana-to-europe.