Chicken pot pie and salad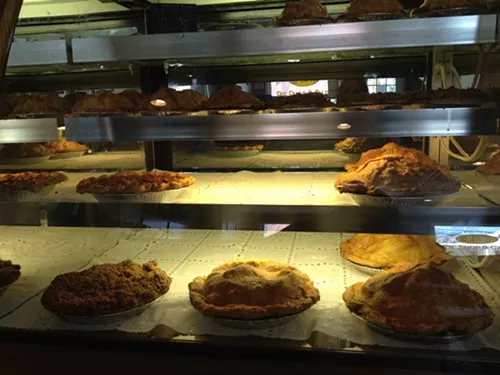 Over-sized pies at Me-Oh My Pie shop
I had a craving for something extra savory and delicious after my pilates class at Body Be Well in Red Hook last Wednesday, and I ended up at Me-Oh My Pie in Red Hook. Not only do they bake sweet fruit pies, but they make savory pies such as chicken pot pie, which the owner Debra Every told me that she was quite proud of. I didn't see them on display so I asked the staff member if they had any chicken pot pies. He pointed to a small tray that had just come out of the oven. My decision was made!
The chicken pot pie was perfect! The crust was not overly thick. Instead it was thin, flaky, and had a bit of a toasty taste to it that just melted in the mouth. The inside was just as good, with very tender well-seasoned chicken and vegetables. The salad had a nice vinaigrette. For dessert, I couldn't resist treating myself to a pie-in-you-hand heart shaped apple pie, which was a good size for a lunch dessert. (I rationalized that it was half the size of a regular piece of apple pie). In any case, it was delicious! I'd definitely recommend Me-Oh My Pie shop if you are in the mood for a savory or sweet piece of pie. The cafe also serves $10 dinners on Thursday, Friday, and Saturday from 5pm-9pm. These pies are also available at Artigiani Del Gelato in Rhinebeck now too.
Find more restaurant recommendations in the Hudson Valley at Vanessa Ahern's blog Hudson Valley Good Stuff. She has been covering where to eat, play and recharge your spirit in the Hudson Valley since 2009. You can also follow her on the Hudson Valley Good Stuff Facebook Page.