A hearty noodle soup creation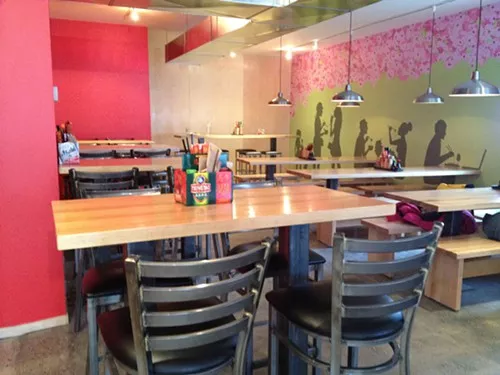 More tables = more soup lovers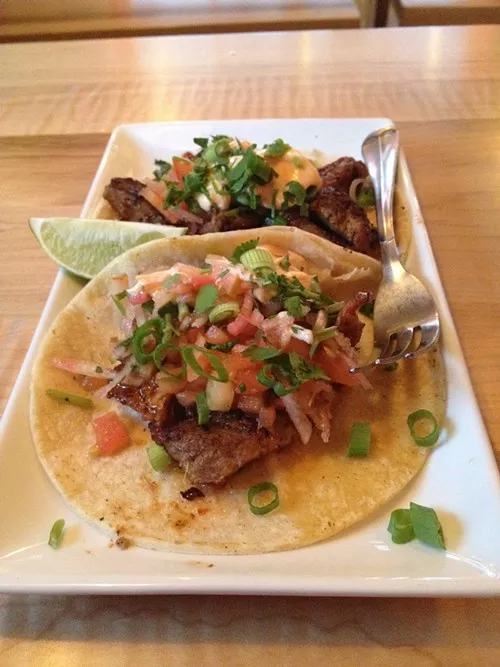 I have been a fan of Yum Yum Noodle Bar ever since they opened in October 2010, but one drawback of the original was that there were only a few tables and a counter, and it could only hold 24 people. This made it cozy, but we had to get there at 4:30pm on Sunday night to ensure a table due to their popularity among locals.
In February 2014 the restaurant expanded, taking over the space of the former clothing store next door, and can now fit 68 diners. The menu is Asian fusion, and there is something to satisfy just about anybody. They always have eclectic specials. My favorite special is the sweet potato curry stew. They also have the very best vegetable dumplings around! I've tried many different dishes here. The chefs use the freshest local ingredients. They offer a lot of different light dishes, such as the Bento Box and pad thai too. If you are in the mood for something a bit heartier, try a soup and get your choice of rice, udon, ramen, or soba noodle or get a stew if it is on the specials board.
We started with cups of the soup of the day which was cream of asparagus with lemon. For my entree I decided to be adventurous and try the barbecued Seitan tacos. (Seitan is a meat substitute, but that tastes like meat, but is much lighter on the stomach). My husband had the pork soup with soba noodles. My daughter enjoyed the kids chicken noodle soup with rice noodles and a cupcake (from Sweet B's in Red Hook) for dessert. Entrees are in the $7-$12 range, and for the quality of the food, I find Yum Yum Noodle Bar to be budget friendly.
Vanessa Ahern blogs about all the good stuff in the Hudson Valley at HudsonValleyGoodStuff.com