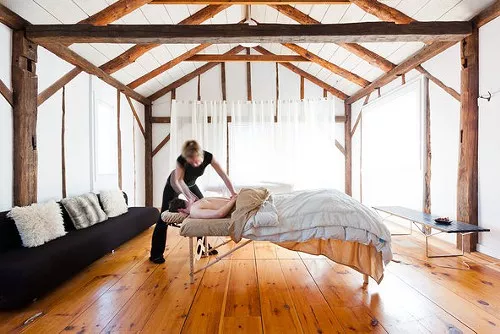 I've often described my hometown of Woodstock as a few blocks of Manhattan's West Village plopped down in the Catskill foothills. Now I can claim a little bit more of that West Village feeling. Savor Spa, which has its first home on West 11th Street, recently opened an upstate outpost in Woodstock - perched above the Cheri Voss Salon like a chic tree house. Last week, I had a chance to sample Savor's eco-spa experience with a bespoke facial. It was a signature treatment - and a treat for the senses.
"Your skin is an organ - you have to feed it and treat it with care," my esthetician Naomi tells me while she slathers on a facial cleanser made with tiny champagne grape seeds. As she lavishes care on my visage, Naomi rolls out an array of products by Om Aroma & Co. - the organic skincare line manufactured here in the Hudson Valley (in Shokan, to be exact) and created by Savor Spa owner Angela Jia Kim. Chosen to match my skin type, each potion sounds good enough to eat: Truffle Face Cream, Manuka Honey Masque, Pumpkin and Raspberry Serum. Meanwhile, Naomi's expertly administered TLC leaves me feeling like the Queen of the Universe - a heady, aromatic universe that I don't particularly wish to leave.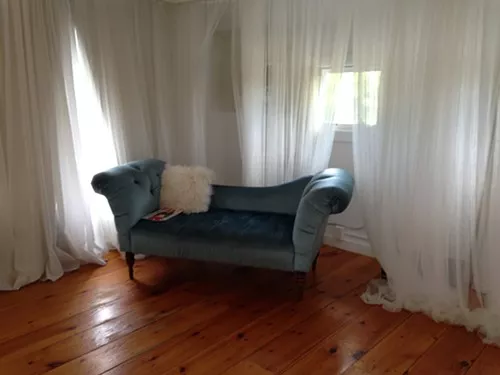 After the facial, feeling dewy and glowy, I settle into a couch with Angela to hear her account of how Woodstock's Savor has come to be. First, she tells me her origin story: How, as a former concert pianist, she once made the mistake of applying skin lotion just before a performance...and immediately broke out in an itchy red rash all over her body. Somehow, Angela got through the concert (the show must go on), but she emerged from the experience determined to come up with new, natural solutions. "I started mixing my own products in my kitchen and became an accidental entrepreneur," she says. Om Aroma & Co. grew out of her resolve, creativity, and musician perfectionism.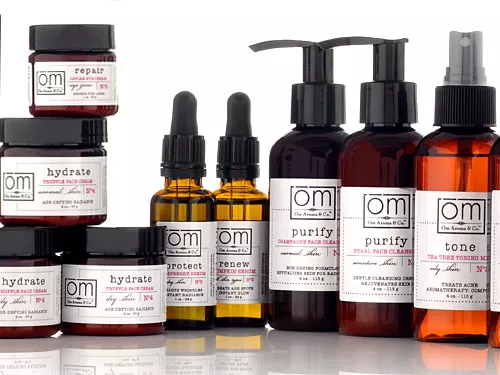 One Woodstock weekend, Angela came to drop off some products at Cheri Voss when her car broke down in front of the salon. Stranded for two hours, she ended up talking to Cheri's mom and discovered the empty space upstairs - an earthy 2,000-square-foot blank slate (and former barn). Not long after, Savor Spa Woodstock took up residence. "I feel like my businesses are here to create abundance in this region," says Angela, who rents a weekend house with her family in the area. So far, between Om Aroma & Co. and Savor Spa, she's created a dozen jobs locally. (Her goal, through a "Dollars & Scents" program designed to bring mothers into the Hudson Valley workforce, is 50 jobs.) "We're meant to do something bigger," she says.
Starting September 13, Savor Spa will offer aromatherapy yoga classes on Saturdays and Sundays - in addition to its regular menu of facials and massages. It may be that Savor is a little slice of the West Village transported upstate. But its spirit is 100% Woodstock.
DETAILS: Savor Spa | 1633 Glasco Turnpike, Woodstock | 888.443.4885, ext. 704