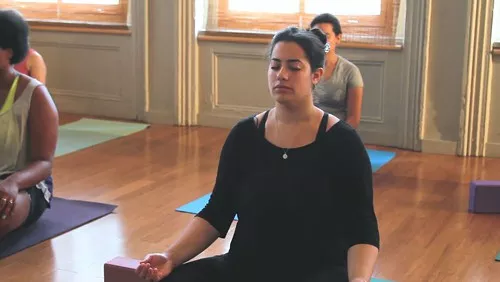 Photo courtesy of Exhale to Inhale
When trauma happens through the body, perhaps the best way to find healing and peace is through that very same body. That's the philosophy behind
Exhale to Inhale
(ETI) - a New York-based nonprofit that provides free weekly yoga classes to survivors of domestic violence and sexual assault. Launched in 2013, and offering yoga instruction and training at several shelters throughout New York City and Westchester, ETI has recently extended its reach to the Hudson Valley.
The first ETI classes in our region will begin with a free public yoga class on Saturday, May 30, from 11am to 12pm, at the Center for Creative Education in Kingston. Additional classes will take place as well on three consecutive Saturdays (June 6, 13, and 20) - all of them taught by Tara Sanders, a Woodstock-based yoga instructor and ETI's program director for Upstate New York.
"It has been a dream come true to have the opportunity to be of service and a conduit for healing and healthful programs in my community," says Sanders, who is herself a survivor of childhood sexual abuse and a domestically violent relationship in her 20s. "Yoga has been one of the most empowering tools that helped me in feeling safe and strong in my body and the present moment, and aided in the transformation of my story from that of the victim to the victor."
Taught in trauma-sensitive style, ETI yoga guides women through asanas (yoga postures), breathing, and meditation, helping practitioners to ground themselves in their bodies, their strength, and their stillness. What shines through is yoga's ability to help these survivors connect to themselves and their worthiness. Many women find the practice deeply transformative.
ETI has also partnered with Upstate Films to screen The Hunting Ground, a documentary about the huge yet hidden problem of sexual assault on college campuses nationwide. The film will screen on Saturday, May 30, 1:30pm, at Upstate Films Woodstock, and on Sunday, May 31, 8pm, at Upstate Films Rhinebeck. The cost is $11/adults, $9/seniors & students, and $7/members - and $1 per ticket will go to ETI to support its programs, which are dedicated to empowering the women in our midst.