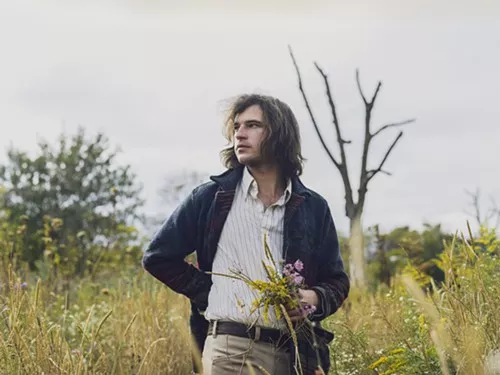 Dusdin Condren
Ryley Walker
This Saturday's certainly the night for singer-songwriters in the Hudson Valley. On Tuesday, I told you about the upcoming Slaid Cleves show in Stone Ridge, and here I am again to let you know about the same night's appearance by Ryley Walker at the Half Moon in Hudson. Too many choices sometimes, right? Well, hold that thought with you 'til the depths of next February, when
no one's
on the road and your only choices are Tivo or the hazards of open mics. I rest my case.
Anyway, Walker is a young tune-writer on the move. And fast: Still in his early 20s, the Chicago musician has lately been blowing up the blogs with Primrose Green, his third and newest release and first for the hip Dead Oceans label. The title should give you some idea of the sound: pastoral, back-to-the-land acid folk on the order of Van Morrison circa Astral Weeks, Nick Drake, John Martyn, Bert Jansch, John Renbourn, et al. There's a surfeit of such stuff in indie land at the moment, but Walker does it well and his new record boasts the work of the amazing cellist Fred Lonberg-Holm and some other top players from Chi-town's underground jazz scene.
Check out the album's title track and lead single:

Ryley Walker will perform at the Half Moon in Hudson, New York, on May 16 at 8pm. Pigeons open. For more information, call (518) 828-1562 or visit http://thehalfmoonhudson.com/.