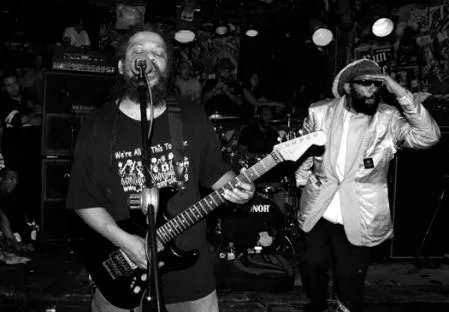 The Bad Brains' Dr. Know and H.R.
Many in the Woodstock music community—and far beyond—were deeply concerned when the news broke last November that long-time town resident and Bad Brains guitarist Dr. Know (AKA Gary Miller) was in coma and fighting for his life after suffering cardiac arrest. Thankfully his condition has progressed and he's now in a rehabilitation center, from where he's expected to make a full recovery. Unfortunately, the expenses incurred from the crisis and his inability to work have left the hardcore legend and his family in some tough financial straits. To help with Doc's difficult situation, a GoFundMe campaign has been set up (see link below).
Last week, the news came that the Bad Brains' vocalist, H.R. (AKA Paul Hudson), who has spent time in the Hudson Valley himself, is also going through a difficult time, health-wise. The 60-year-old singer has been diagnosed with a rare pattern headache condition known as SUNCT (Short-lasting, Unilateral, Neuralgiform headache attacks with Conjunctival injection and Tearing), which has worsened dramatically over the last six months and requires medication, doctor visits, and related expenses that are not fully covered by insurance. H.R.'s wife has launched a GoFundMe campaign to offset the mounting costs brought on by the situation.
Here's a clip of Dr. Know and H.R. with the Bad Brains in full flight at CBGB in 1982:
As music fan, musician, and human being, I ask you to do what you can to help these two members of one of America's greatest and most influential rock 'n' roll bands in their times of need.
Dr. Know GoFundMe page: https://www.gofundme.com/drknowbadbrains.
H.R. GoFundMe page: https://www.gofundme.com/r4ua4wng