Posted

By

Joseph Mastando on

Fri, Dec 20, 2013

at

9:48 AM
Uptown Kingston will host a New Years Eve cabaret festival, featuring events around the town.
New Year's, a holiday typically associated with young men and women hunched over their trashcans and toilets, can be spent with safe and quality family fun, and there is no place better to experience such merriment than the Hudson Valley.
The region, in its environmental glamour and community reach, hosts an array of activities and spectacles appropriate for the family. Instead of being quarantined to the bathroom, spend the last day of 2013 outdoors with the brisk winter air caressing your skin or inside wrapped in the warm and cozy comfort offered at Hudson Valley's premium venues.
New Year's Eve at Hunter Mountain Resort
If nature bestows the best climate for culminating the year, travel to the Hunter Mountain Resort for a day-long celebration. The jamboree begins at 2pm with DJ Frankieoke located in the Main Bar where guests can later return at 4pm to sing and sway to the music of 5-Zero Band. At 6:30pm, guests will strap on their selective winter sporting gear, whether it be a snowboard or a pair of skis, as the torchlight parades commence. Children will take to the trails at the foot of the mountain, slipping and sliding down the pathways with battery-powered torchlights, while adults are lifted halfway up the mountain and glide down Racer's Edge bearing blazing torches. The paraders snaking down Hunter's slopes will appear as a sea of lava to onlookers nestled at the foot of the resort. After watching a display of fireworks, guests can delight in a fresh cocktail at the Main Bar or savor St. Louis style BBQ ribs in the warm ambience of VanWinkle's.
New Year's Day at Minnewaska State Park Preserve
If snowboarding isn't your shtick, but you still want to enjoy the outdoors, take to Ulster County's Minnewaska State Park Preserve on New Year's day for a snow-bound hike in the winter wonderland of the Awosting Falls carriage road. Beginning at 1pm, the two and a half mile walk will take hikers through the bare trees, past the slabs of quartz conglomerate, and along Peter's Kill stream to its final destination: the 65-foot tall Awosting Falls. If weather conditions are cold enough, the billowing streams pumping the water off the Awosting's cliff will freeze, and the waterfall will remain suspended in midair with the straggling streams forming new strands of icicles every moment. Guests can reserve snowshoes for the hike if snow blankets Minnewaska's grounds.
Mid-Hudson Children's Museum New Year's Eve Celebration at Noon
If the winter winds bring too potent of a chill to your bones, travel to Poughkeepsie's Mid-Hudson Children's for a day of kid-friendly fun. While munching on some cookies or drinking some New Year's punch, kids can partake in many hands-on activities, including making noise makers. The kids will then grab hold of their own slices of bubble wrap and count down by ten at noon. Sounding off their homemade noisemakers and banging tambourines, the children will then march in a short parade throughout the museum. The day will feature live music from museum educator Teresa Gimmarco and Hudson Valley folk artist Kathleen Pemble.
New Year's Day Music Ritual with Amy McTear at Epworth United Methodist Camp & Retreat Center
For those a bit more in-tune with the indoors, High Falls' Epworth United Methodist Camp & Retreat Center will host the zen-like performance of Amy McTear and over 25 musicians in their New Year's Day Musical Ritual Event: An Odyssey Into the Heart Via the Power of the Collective Voice. The event will unify the artists' sounds in a choir-like spectacle featuring the soundscape of voice, drums, flute, didgeridoo, symphonic gong, crystal singing bowls, guitar, bass, and cello. With excerpts of spoken word interjecting the melodic songs, the performance will foster a meditative experience of spiritual enlightenment appropriate to usher in the new year.

For those more interested a nocturnal New Year's Eve, the Hudson Valley offers a range of music, dance, and food specials throughout the night.
Alexis P. Sutter Band at The Falcon
Marlboro's premier music and dining venue, The Falcon, will host a New Year's Celebration with the up-and-coming Alex P. Sutter Band. Lead singer and soul chanteuse, Sutter melds her bluesy bass/baritone voice with the funky beats of drummer Ray Grappone, bassist Peter Bennett, guitarist Jimmy Benny, and keyboardist Benny Harrison into a sound that reaches in the roots of soul, folk, and R&B. Since their inception, the group has headlined sold out crowds at BB King's NYC and performed alongside The Levon Helm Band. Dinner will begin at the Falcon at 5:30pm with Aubrey Haddard opening the show at 7pm. Haddard's mellow and sultry tracks blend elements of blues, soul, folk, and jazz, a talent that launched her into the finals in the 2012 Hudson Valley Voice Competition.
Sister Sparrow & The Dirty Birds at Club Helsinki
Club Helsinki carries the music clamor into Hudson with Sister Sparrow & The Dirty Birds. Headed by the raspy and soulful tones of vocalist Sister Sparrow (Arleigh Kincheloe), the band brings a dynamic edge to the contemporary face of soul-funk. Its multifaceted tracks fuse scratchy pop vocals with funky saxophone riff, ska drum beats, and bluesy guitar swells in upbeat and genre-defying performances. The band has earned a noteworthy reputation in the national news as publications rave about Sister Sparrow's vocals. "Frontwoman Arleigh Kincheloe has one of the biggest voices in the soul-funk business," Baltimore Sun. Prepare to be blown away." The performance will begin at 9pm.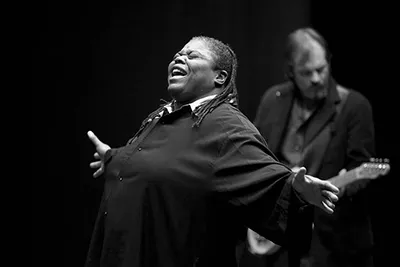 Alexispsutler.com
The Alexis P. Sutter Band will perform at The Falcon in Marlboro on New Years Eve alongside Aubrey Haddard.
Debbie Davis and Myles Mancuso at Towne Crier Cafe
After moving to a new location in Pete Seeger's hometown, Towne Crier Cafe has successfully integrated nouveau riche dining etiquette with the high-energy thrill of acclaimed musical performances. On New Year's Eve, guests can shake, rattle, and roll to the sounds of the Debbie Davies Blues Band and Myles Mancuso Band. "She wields an electric guitar as if it were a wand," the Los Angeles Times writes, commenting on the night's first performer, the blues singer/songwriter Debbie Davies. Awarded Best Contemporary Female Blues Artist at the Blues Music Awards in 1997 and 2010, Davies 2014 tour showcases numbers from her 16th studio album "Retrospective." Though many fans expected a "Best of" album from Davies after her years developing such a massive discography, the blues chanteuse chose a different route. The album "presents alternate recordings of tunes from earlier projects," Davies writes in her blog, "early recordings of tunes no one has heard yet." Myles Mancuso, otherwise known as "Mojo," will shred his guitar aside the seasoned blues veteran. Mancuso's soulful vocals and complex blues guitar riffs will explode on Towne Crier's stage as his band performs numbers from their recent studio album Blow My Blues Away. At the age of 18, Mancuso has garnered accolades from the industry's most renowned members, regarded as a child prodigy by national publications and celebrated by industry giants Levon Helm and Les Paul."
New Year's Eve Ramble at Levon Helm Studios Multi-instrumentalist composer and songwriter Marco Benevento brings his genre defying jazz-rock to Levon's hallowed barn to join the Midnight Ramble Band (Larry Campbell, Amy Helm, Jim Weider, et al.) for a raucous celebration of roots rock 'n roll.
New Year's Weekend at the Ashokan Center
For those looking for as much gyration in the hips as song on the lips, the Ashokan Center offers a weekend tailored perfect for souls akin to dance. While hosting visitors with their on- and off-site sleeping accommodations, the educational center and environmental retreat will prepare guests for the weekend of music and dance with its many featured classes. Master Swing and Slow Blues grooves with Cindy Overstreet and Cindy Ryan or spice things up at Cajun dance lessons with Corey Porche. The night will also include a selection of instrumental and vocal classes as well. Put your lessons to the test on New Year's Eve and boogie down with the night's musical extravaganza. Performers include Louisiana's Cajun and Creole band The Revelers, Tunescape and its cutting-edge contras, the swing, blues, contras and waltz numbers performed by Jay Ungar and Molly Mason with Swingology, and lastly, Vikki Armstrong and John Krumm for some more contra- and square-dancing music. Festivities will begin on the 29th. Guests do not have to spend the weekend to attend the New Year's Eve event.
Rock n Roll Resort at Hudson Valley Resort and Spa
Blending the madness of concert festivals with the serene ambience of a vacation getaway, Hudson Valley Resort and Spa hosts Rock n Roll Resort's New Year's installment. The resort's many indoor stages will boom with the vibrancy of vivid lasers and striking lights as installed by New York City-based designer Danzer. Ten acts will line up to perform throughout the night, including Particle, a disco- and instrumental-oriented group, and Bastinado, an electronic dance music duo that revives the ancient sounds of the didgeridoo with the cutting-edge European musical technology. The bands performing have appeared at some of the Northeast's most prominent music festivals, including previous installments of Rock n Roll Resort, Bella Terra, The Big Up, and Catskill Chill. Guests can savor a cocktail from the resort's bar and cheers to a complimentary champagne toast as the clock rings in the new year. In addition to the dinner options offered the night of New Year's Eve, a brunch will be offered at New Year's Day.
Peter Barret
Hudson's Fish and Game will offer special dinner options for New Years.
New Year's Eve at Uptown Kingston
With street performers, vaudevillian-styled acts, and a swing band roaming the town, Kingston will become the cat's pajamas and transform into the quintessence of cabaret. Twentieth-century dishes and cocktails will be featured on menus throughout the town as locations like Duo Bistro and Sissy's Café host late-night breakfast after midnight. Boiston's back deck will transform into an afterhours smoking lounge and cocktail bar. At the neospeakeasy Stockade Tavern, revelers can foxtrot and shimmy to a Klezmer band. The traditional countdown to the new year will include a custom-made ball drop on the corner of Wall and North Front Streets. As the clamor erupts outside, BSP Lounge will be open with exclusive performances and dancing opportunities. Lady Schnitzel will host the night's festivities, featuring music from Frenchy and the Punk and burlesque numbers from Lady Alchemy and Delysia La Chatte. Once the ball drops, Dave Leonard of JTD Productions will unsheathe his turn tables as BSP transforms into a night club.

The esteemed culinary tone that permeates the Hudson Valley provides accommodations specific to the holiday as its most prestigious establishments offer dinner specials and prix fixe menu options.
Fish and Game
For $225, Hudson's Fish and Game adds entertainment to its fresh local dishes, innovative cocktails, and its swanky wine list. As 2014s premier hour hits, guests will be gifted a complimentary champagne toast. Tunes from DJ Dr. Zsou-Zsou le Brix will narrate the black-tie affair, allowing guests to boogie by the fire until the last reveler leaves or possibly collapses from exhaustion.
Panzúr
Tivoli's premier Spanish tapas bar Panzúr rings in the new year with select dinner options. Its prix fixe menu, set a $75 dollars per person, provides guests with a three-course meal, appetizers and dessert included. While basking in the dim and soothing iridescent ambiance, savor a few croquetas or dip your foie gras en bocal into a spiced red wine gel. Feel free to walk to the full-service bar overlooking the dining room or ask your waiter for a table-side cocktail. Wine pairing will be available for $40.
Terrapin
Terrapin, Rhinebeck's signature dining destination, will also be serving a prix fixe dinner option. Select from either a two-course meal or three-course dinner and dessert, both with complimentary appetizers for $39 and $59, respectively. Enjoy a goat cheese wanton or spread some sweet mango-avocado salsa on top of your duck quesadilla. Later, walk up to Terrapin's marble-top bar, snaking its way along the walls of the dining room.