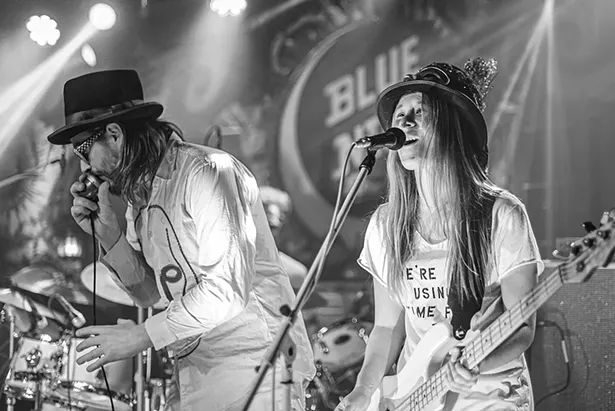 75 Dollar Bill | March 7
New York duo 75 Dollar Bill's third album, 2019's
I Was Real
, was named Album of the Year by experimental music bible
The Wire
, and with good reason: The transcendental twosome of guitarist Che Chen and percussionist Rick Brown (Fish & Roses, Curlew, V-Effect), sometimes augmented by a changeable cast of guest players, stirs up an exotically intoxicating, hypnotic spell that approaches the shamanic vibes of Mdou Moctar, Ravi Shankar, and John Coltrane, yet remains distinctly their own. After much logistical wrangling on the part of
Tubby's
management, they kick off the club calendar for this first Friday event. (Shana Falana shoegazes March 5 and 6; Elkhorn, Glenn Jones, and Alexander Turnquist appear March 19.) 8pm. $10. Kingston.
Matthew Shipp | March 7
Matthew Shipp is simply the most forward-thinking pianist-composer in jazz today. After debuting on record in a duo with saxophonist Rob Brown, Shipp sailed to prominence in the early 1990s as a member of saxophonist David S. Ware's quartet before christening his own trio with fellow Ware players bassist William Parker and drummer Susie Ibarra and collaborating with numerous New York stalwarts. His deep and influential catalog includes several solo outings, which is the setting the keyboardist will be in for this performance presented by Elysium Furnace Works at the Howland Cultural Center. (The Lincoln Trio holds forth March 1; the Whispering Tree murmurs April 1.) 8pm. $20, $25. Beacon.
Archers of Loaf | March 13
Along with Pavement, Built to Spill, Guided By Voices, and their Chapel Hill, North Carolina, buddies Superchunk, Archers of Loaf defined the 1990s slacker-indie sound: scrappy, lo-fi, and with just enough melodies to bring them to the brink of pop crossover (hence their rejected overtures from Madonna's label, Maverick Records). The album that put them on the musical map was their 1994 debut, Icky Mettle; that year's proto-emo EP The Greatest of All Time and 1995's raw turn Vee Vee raised their alt-radio profile. The quartet reunited in 2011 after a 13-year hiatus and comes to Colony for this rare local gig. (Amy Rigby arrives March 15; Murder by Death kills it March 25.) 7pm. $25, $30. Woodstock.
Múm | March 25
To celebrate the 20th anniversary of their acclaimed 2000 album Yesterday Was Dramatic—Today Was OK, this month the Icelandic electro pop band Múm is making a long-anticipated return to America that includes an unexpected engagement at Hudson Hall. Although founding members Gunnar Örn Tynes and twin sisters Gyoa and Kristin Anna Valtysdottir have been noticeably inspired by pioneering UK ambient techno act Aphex Twin and American Minimalist composer Iannis Xenakis, it's hard not to hear the cold, misty vistas and forlorn folk styles of their homeland in the epic dronescapes they create. With Clarice Jensen. (The Camphill Players present "Inner Worlds" April 3.) 7pm. $20, $25.
Marco Benevento | March 27-28
One of the region's hardest-working musicians is keyboardist Marco Benevento—hands down, as it were. Although the Saugerties-based player and singer has found the bulk of his success on the jam-band circuit—he's collaborated with Phil Lesh, Mike Gordon, and Trey Anastasio—his fleet fingers are in all kinds of musical pies: Benevento has also worked with everyone from Tortoise's John McIntyre to the New Pornographers' A.C. Newman and the Black Crowes' Chris Robinson. In support of his most recent release, 2019's Let It Slide, he makes this two-night stand at Levon Helm Studios. (An Evening to Be Grateful celebrates the Dead March 1; Tanya Tucker trucks in March 6.) 7:30pm. $30, $50. Woodstock.
James Hunter Six | March 28
It feels like it's been forever since British R&B belter James Hunter has performed in the area. Wait over: The artist formerly known as Howlin' Wilf hits the Hudson Valley with this soul blowout at Daryl's House, bringing his tough sextet along for the ride. After four albums on his own (including 2006's landmark People Gonna Talk), the gutsy, Grammy-nominated vocalist and MOJO magazine-declared "United Kingdom's Greatest Soul Singer" released three full-lengths with his James Hunter Six, the last two being well at home on Brooklyn's iconic Daptone, the label that gave us Sharon Jones. Time to get down! (Ana Popovic burns March 1; the Outlaws ride in March 31.) 8pm. $30. Pawling.