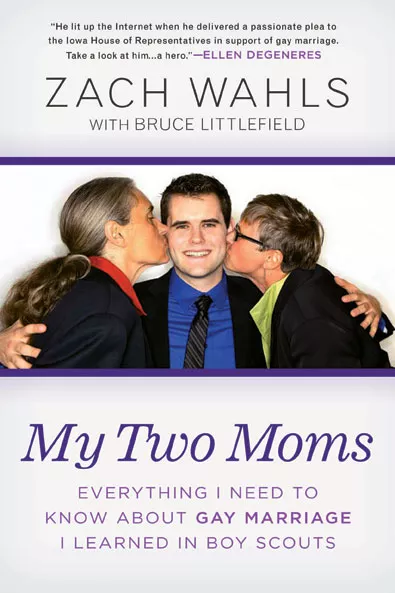 Zacharia Wahls is conservative America's dream: A sixth-generation Iowan and Eagle Scout. A high school athlete, debate club star, and top student. A University of Iowa student, churchgoer, and small business owner. Tall, Caucasian, handsome, and heterosexual.
Or is he conservative America's nightmare? Zach Wahls is also the test-tube son of two lesbian mothers—one of two million children of same-sex parents.
Among that growing group, Wahls stands out: In January, 2011, at age 19, he addressed the Iowa House Judiciary Committee, asking them not to repeal the law allowing same-sex couples to marry, enacted less than two years before. The testimony on behalf of his mothers is brief, but brims with dynamic eloquence. Posted on YouTube, the plea was viewed more than 18 million times, providing the marriage equality movement with an unlikely, but effective, spokesperson.
But Wahls's day in court was not a fluke. In his inspiring and engaging memoir,
My Two Moms
—written with Ulster County resident Bruce Littlefield—Wahls recounts how being raised by two mothers prepared him for that landmark day in a Des Moines courtroom.
My Two Moms
is ostensibly targeted at those who disagree with the notion of two mothers, two fathers, and the right of gays and lesbians to marry. Respectfully building his argument, Wahls introduces us to Terry Wahls, an internal medicine physician, and Jackie Reger, a nurse. Terry is a tall woman with a black belt in karate, a blind spot for recalling birthdays, and an obsession with healthy eating. Jackie is the shorter mother, who enjoys playing den mother to Zach's Cub Scout pack and insists on her daily can of Diet Mountain Dew. Both instill in Zach and his sister Zebby a sense of values, imparted over family dinners.
In school, Wahls is caught off-guard by a common query from classmates: What do your mom and dad do? For years, he dissembles. (Alluding to the dilemma, Wahls observes, "I'm not gay, but I know how it feels to be in the closet.") When his peers discover his unique domestic arrangement, some taunt him. But Wahls eventually stands up to them, channeling his convictions into a series of school newspaper columns that win people over.
When Terry is diagnosed with multiple sclerosis, even hardhearted readers will see why marriage equality is just. Jackie cares for her wife through harrowing chemotherapy treatments, but without spousal status, she lacks the authority to approve Terry's hospital care. Wahls recounts these dark moments without histrionics, crafting a powerful portrait of a family united in adversity.
Youthful idealism abounds here. Each chapter is titled according to the Boy Scout law: Obedient, trustworthy, kind, friendly, reverent, and so on. Life-coach platitudes are scattered throughout the book ("Running from the truth leaves it chasing you.") as are quotations by Martin Luther King, Elie Wiesel, Voltaire, and Kurt Vonnegut. Yet Wahls' sunny demeanor is never naïve, but bolstered by a formidable command of human nature and law. In an addendum, he takes on every argument against marriage equality and calmly topples them.

My Two Moms
augurs Zach Wahls' inevitable career in politics. America will be the better for it.
Zach Wahls and Bruce Littlefield will read from My Two Moms on Saturday, 5/12 at Spruce Design and Decor in High Falls. Twenty percent of every item sold at Spruce that weekend will be donated to the Hudson Valley LGBTQ Community Center. (845) 687-4481.