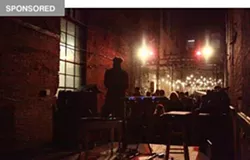 Enjoy an evening of art, music, food and drink spread throughout three connecting industrial spaces and culminating in a starlit concert in a 19th century alleyway. Brick Alley Block Party celebrates the opening of GARNER's Fall Exhibition, Transposing Perception, on display in the stunning 8,000 square foot Dye Works warehouse space. Transposing Perception explores the concept of "changing the relative place or normal order of things" and features work by Daniel Liss, Andrea Stanislav, Michael Zansky and others. After exploring the exhibition, audiences can dine from local food trucks and taste local beer, wine, and hard cider while internationally recognized DJ, Photay, lights up a brick alley with a sundown set. GARNER is located within the Garnerville Arts & Industrial Center, which is comprised of twenty-eight 19th century buildings.
Photay Having been introduced to Aphex Twin at the age of 9, Photay began to embrace music in all of its forms. This early inspiration provided a foundation for his musical growth in drumming, turntablism and eventually composition. Photay's sound is a balancing act of analog and digital, of natural and synthetic. It is not designed exclusively for headphones nor the dance floor, but is genuinely at home in both contexts. Daniel Liss is a Creative Director, filmmaker and technologist from New York City. Before founding S+7, Daniel was Creative Director at New York based media design firm, Local Projects, where he served as lead creative on engagements for BMW Guggenheim Lab, Jacob Burns Film Center, New York Botanical Garden, Stone Barns Center for Food and Agriculture, Panasonic, Sugar Hill Children's Museum, the Nature Conservancy, and Google Creative Lab. Andrea Stanislav is consumed by ideas of contemporary power, the embodiment of the manifest destiny of global capital. Oftentimes darkly humorous, her work is ultimately a critique of the ancient symbols, the origin myths of civilization. The pastimes and playthings of power. Michael Zansky - "Zansky sees the uncertainty of it all as an element of humor, like a dog chasing its tail. In a sense, it is like the experience of Renaissance perspective when it was new, and the human came up against the cognitive uncertainty of experiencing space in a new way." -Thomas McEvilley.
Tickets are: $12 for adults, $10 for seniors/students/military and available for sale at garnerartscenter.org or by phone at 845-947-7108. This message is supported by I Love New York and Rockland County Tourism.