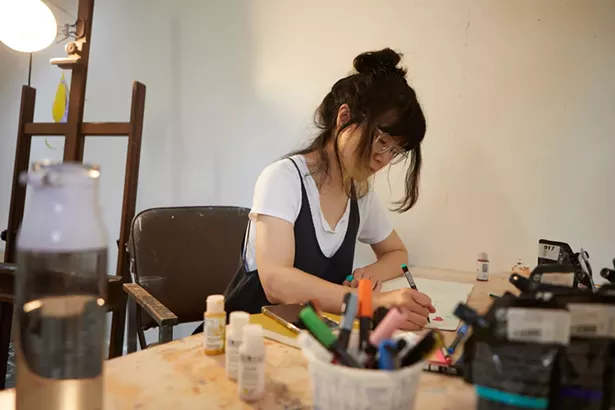 In 1902, benefactor Ralph Radcliffe Whitehead, writer Hervey White, and painter Bolton Brown founded Byrdcliffe Colony in the woods of Woodstock. For more than a century, artists, writers, musicians, and social reformers have made the pilgrimage to the utopian enclave to stay in the 35 rustic buildings, all designed in the Arts and Crafts style, and create art in the inspirational natural setting. Among the prominent figures who spent time at Byrdcliffe are naturalist John Burroughs, dancer Isadora Duncan, and Bob Dylan, who bought a home there in 1965.
Today, the nation's oldest artists' colony continues to host residencies every summer.
Artist-in-Residence (AiR) guest director Kate Conroy calls the program "the heart of the Woodstock Byrdcliffe Guild." She adds, "The history of the land holds a special place in the hearts of many people in Woodstock. Byrdcliffe's founding on Mount Guardian put Woodstock on the map as an upstate arts town. It's an early and lasting identity for Woodstock."
The visiting artists—local, regional, national, and international—are selected through a juried process, with multiple monthly sessions running throughout the summer. "We focus on the resident artist's experience by creating a supportive environment in which the artist has time and space to muse and generate new work," Conroy says. The residency will soon expand into a year-round initiative with the current project to winterize the artist cottages. "The winterization enables us to welcome and engage even more artists who have not yet had the opportunity to work in Woodstock at Byrdcliffe," she explains. "The theater is getting winterized too, which opens up more opportunities for performance programs."
In addition to the periodic open houses, including those coming up on August 28 and September 25, the Woodstock Byrdcliffe shop on Tinker Street carries works of AiR alums and local artists. On September 11, the arts colony will host Celebrate Byrdcliffe!, a fundraiser that includes a cocktail reception, silent auction, and open studio tours of the buildings that non-residents don't usually get to see. "There is a brightness to the day when you see artists and art lovers from the community engaging with the AiR artists and their work," Conroy says.
Photographed in July by David McIntyre, here are several of the artists living and creating at Byrdcliffe this summer.